What to pack for South America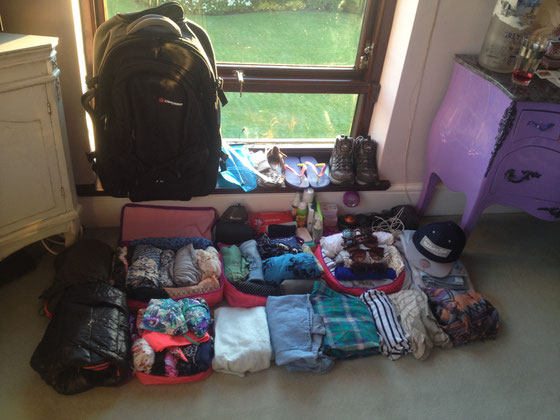 I know it may not seem like a lot of stuff in the photo, but compared to other blogs iv read on what to pack, I seem to have filled my bag with everything but the kitchen sink. Maybe its because I'm a pretty small person that I have managed to fit in nearly double of what I need, but It's always better to have to much, than too little. Because we will be travelling through the Hot season, Rainy season and even trying to fit in a bit of skiing in the snow, it was really hard to get the balance right but i think iv done ok, So heres my packing list.
Anything in red is an update after i travelled and all the useless crap i took with me which you can avoid.
Essentials
Back pack and Day pack (Caribee Sky Master with wheels and backpack straps)
Packing Cubes x 5
Passport
Travel Lock x 2
Purse and Debit/Travel Cards
Electronic
ipad
iphone
Lumix Digital Camera
Go Pro and accessories
iPod and head phones
Headphone splitter
Adapters x 2
Hard Drive
Shit Phone - never used it 
Portable Battery pack (so good for when on the go)
Mini Speakers
Clothing 
This is where my list just gets ridiculous because I have so many clothes !!!
Bikini x 3   - 1 will do
Down Jacket
Waterproof Jacket
Maxi Dress
Beach Dresses x 3  - 2 max
Other Dresses x 3  - again 1, 2 max
Jeans x 2  - could probably just do 1 but i like to have 1 black and 1 blue
Shirts x 3
Tanks Tops x 5  - 2 is fine
T shirts x 4
Cami Tops x 2   -didnt wear either and gave away to a girl in a hostel
Jumpers x 4     - threw one away and lost one, 2 suited me just fine in the end
Dungarees x 2 Long and x 1 Short (This is an item i don't think i can ever live my life without)
Sarong x 1
Shorts x 4    - stick to 2 pairs
Pants x 15
Bra x 2
Socks x 5
Beanie
Cap
Gloves
Scarf
Toiletries
Sun Cream (P20, Factor 20 and lasts all day after one application)
Deodorant
Toothbrush and Toothpaste
Shampoo
Conditioner   - I learned life without conditioner aint so bad... or 2 in 1 is a good call
Body Wash
Moon Cup (Girls this will change your life, you need to invest)
Tad of make up 
Contraceptive Pill
Miscellaneous 
Travel Towel
Inflatable Travel Pillow  - the best invention in all of the land
Money Belt   - never used this either
Pack of Cards
Camelbak
Point Book (my dad gave me this, its from the 70's and It's hilarious! But It's also great. It has pictures of everything so when you don't know the word you can just point to the object)
Notebook and Pens
Sunglasses x 4  -lost every pair :(
George (21 years old and i still carry a Teddy Bear round with me)
Torch and head lamp
Medical
First Aid Kit
Mozzy repellent   - I found local repellents are much more effective
Water purifying tablets   - add a drop of concentrated squash too take out the chemical taste
Diarrhoea tablets (no one likes the shits)
Anti bacterial Savlon
Paracetamol / Lemsip -these turned out to be super expensive abroad