11.2419° N, 74.2053° W
Santa Marta
We arrived in Santa Marta at about 3am so jumped in a taxi to the hostel. The next day we walked around the city and ended up knocking on a random hostel to see if there was any work in trade for accommodation. At first the owner Fernando looked very confused, but offered us a mattress on the floor for a night or two. The next day he had clearly been doing some thinking as he came to us with an idea of some quotes and paintings he wanted doing on his walls. We spent the next 4 days decorating his hostel, exploring the city and sharing beers with Fernando and other backpackers staying there. This is also where I began my experiment of finding a mosquito repellent that works. For some reason I'm just one of the ones they love. After spending 4 nights at fernandos, we got a workaway conformation so decided it was time to leave the hustle and bustle of the city and head up to Minca.
Directions: take a collectivo (shared taxi) from Santa Marta Estacion Minca, C1 11 y Cra 12. It's pretty close to the mercado publico. It costs 8,000 COP per person and takes around 45 minutes along bumpy roads to reach Minca.
Minca
Minca is a hippy village located in the mountains of Sierra Nevada about an hour from Santa Marta. We jumped in a collectivo which took us up the winding and bumpy road to Minca village followed by a motto taxi each up a very steep dirt track. It was great, kind of like being on a ride at a theme park as the bike accelerated and ragged its way round corners. Jord hated it, he ended up burning his leg on the exhaust due to his bike being under 150cc. When we finally reached the top we jumped off to our home for the next two weeks. Mundo Nuevo.
We dumped our stuff in our room and headed to the bottom of the garden with Swann, Phil and some other volunteers. This is by far one of the most magical spots I've ever sat in. The garden ends with a bench at the end of a grass ledge looking over the valley leading to Minca. Whilst the thick jungle mountains of Sierra Nevada fill the background and in the distance, a silhouette of Santa Marta reflecting on to the sea with the sun setting behind it. It's literally breath taking!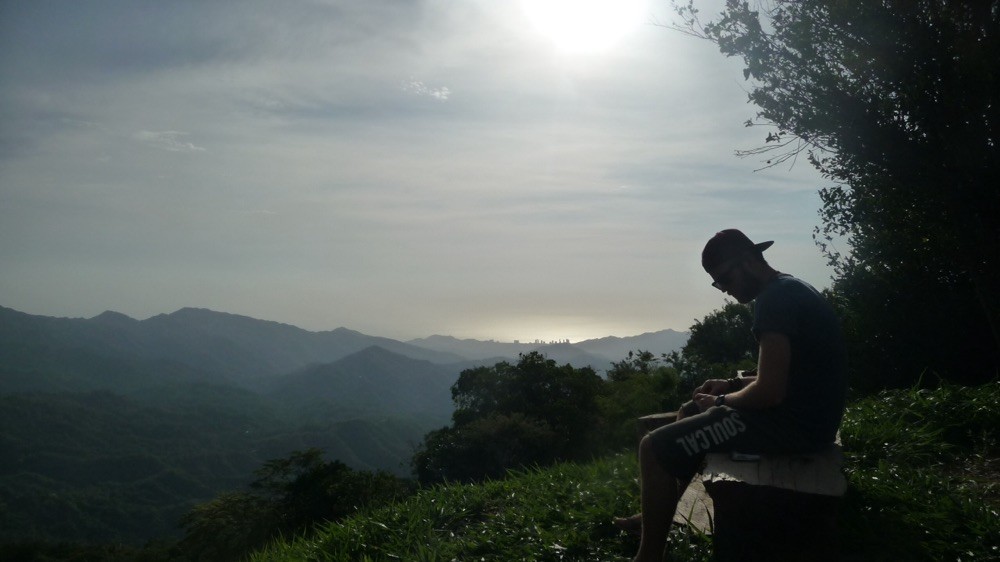 We spent 2 weeks in the paradise of Mundo Nuevo helping to get their hostel up and running. It was good fun and everything was super laid back. I spent the mornings painting and decorating the volunteer house, whilst Jord did all their electrics (he's cleverer than he looks you know). Because we would finish at around 1.30/2 and had Sunday's free this meant we could either spend the afternoon relaxing whilst swinging in a hammock or checking out some of the local things Minca had to do.
What to do in Minca
La Candalaria coffee and chocolate plantation                                                                        20,000 COP
The first Tour we did was to La Candalaria. This is the Local Coffee plantation and is run by the owner and his wife. You are taken all around the farm where you find out about the life process of how coffee is made and then ends with making your own coffee, which tastes amazing. The plantation is also home to Tuci, the Tucan. After the tour we were sat on their terrace when he came to get some food, so we got to see him up close and personal. 
Directions: located 45 minutes from the village centre walk over the bridge,  then take your first right and then follow the road all the way up the hill. Pre warning, this hill is a bitch and feels like it's never going to end, but it's defiantly worth it for the tour (if your super lazy you can get a mototaxi for 12,000 COP)  Luckily for us Mundo Nuevo was literally opposite so it was a shortcut for us through the jungle, and out at the opposite end.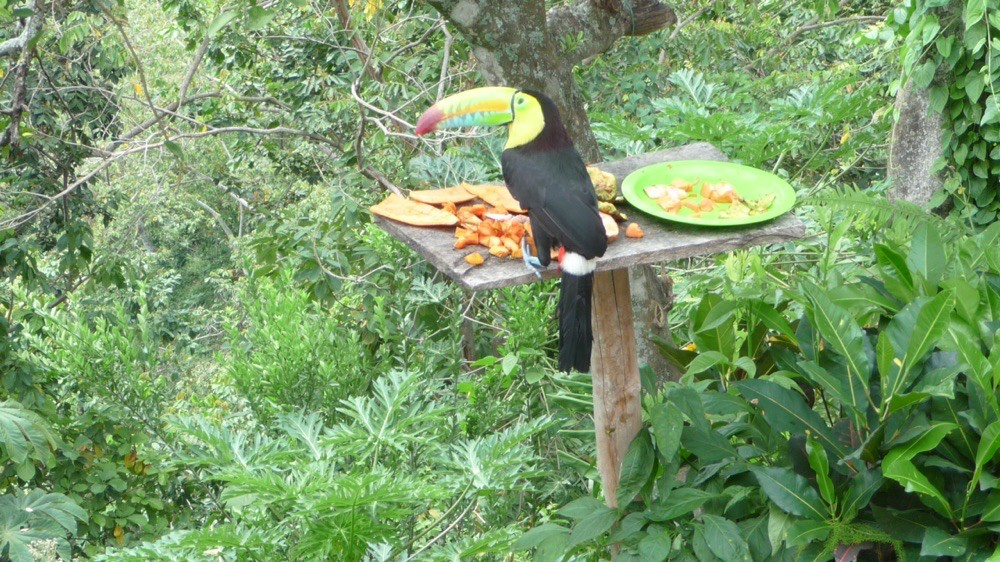 Pozo Azul                                                                                                 Free
Minca also has a few waterfalls that are perfect for chilling out in. The main one or most touristy one is Pozo Azul. The Cascade is pretty big, although not super high and there a few large pools which you can swim in. It's also possible to jump about 15ft from the rocks in to the top pool. This gets super busy on weekends so it's best to visit on a weekday but it's a great place to meet other travelers.
 Directions: It's about a 45 minute walk up the road on the left from the center, although again we took a shortcut using a path through the jungle from Mundo Nuevo.
Locals Cascade                                                                                      3,000 COP
The other Cascade is the locals cascade. We started walking this but then flagged down a truck which took us the rest of the way. The dude in the truck happened to have a TV screen on the dashboard and started banging out a bit of 'Pitbull - El taxi' on full blast. This was defiantly better than walking up the hill and personally, I found the car ride more interesting than the Waterfall. We ended up paying to sit in a murky and small over crowded pool so we left after about 20 mins.
Directions: About a 1 hours walk up the road on the right from the center past all the restaurants. Be warned, it's even steeper than the road to La Candaleria
Local Knowledge                                                                                   Free
Swann told us about another part of the cascade off the beaten track so we went on the hunt for this instead. This was really nice to chill out in and my favourite out of all 3. We pretty much had the whole thing to ourself apart from a couple who were at the top, and a dog who tagged along with us for the rest of the day. Although it doesn't have massive pools to swim in, a little further on there is an area where we made a waterslide, and also a natural plunge pool with the waterfall going in to it.
Directions: Walking from Minca village, it's a hole in the fence on the right hand side about 50 ft before the bridge and yellow house.
Lost City tour                                                                                         700,000 COP
It's also possible to do the Lost City tour from Minca as well as booking in Santa Marta, although we didn't do it due to the budget. No matter where you book it from or how many days you choose, every tour is the same price, so if you want the most for your money id go for the 7 day tour, but be aware they try to speed things up so it's up to you to make sure you get what you asked for. This is on a lot of people's must do list and if you have the chance and funds then I defiantly recommend it!
Like what you read? Pin it!