4.1000° S, 81.0500° W
The next part of our journey was to head to Lobitos, a town in the North of Peru. We'd found a workaway that needed a hand fixing up a surf camp so we packed up and began the journey down from Ecuador. Coincidently, getting to Lobitos meant you had to take a bus via the party town of Mancora and when we arrived at 4am we decided to stay a night and see what it had to offer.
A few friends who had previously travelled Peru told Jord and I that if we went to Mancora, then the 'Loki Hostel' is a must. We knocked on the door but at 4am the hostel was full and guarded like fort knocks, so being the stingy fuckers we are, we headed to the beach for a few hours kip. As soon as we lay down we had a constant reminder from the police not to fall asleep or someone would rob our bags. Sounds like a great place right? we chilled there until 7am and then found a cheap hostel on the beach front for 40 Soles. 
Breakfast
Like normal humans, we found a place for some breakfast, but it seemed that the rest of the town was still on the piss from the night before and wasn't in any hurry to sober up. It was like watching TV out of the restaurant as 4 Israeli lads stumbled back and forth over the road in front of us. Then one of them decides it's a good idea to pick a fight with a shop owner. Bam! Out comes a cosh.... No stop. The fucker was too much of a pussy and starts just waving it around the Israeli kid. Next everyone's running up and down the street whilst the police stand there like melons. Then they disappeared for a minute or two and so we began to enjoy our breakfast again. Woah, out of no where, in comes the Israeli lad and lands flat on our table, followed by the shop owner who lands directly on top of him and some lady who gets pushed to the side. The table goes flying, breakfast goes flying and this lady's tits flap out and are jiggling everywhere. Finally the police get involved and sort the situation out and luckily we get another breakfast on the house.
Loki Hostel
We spent the rest of the morning walking along the beach and looking at markets before managing to blag our way in to Loki Hostel. We got speaking to an Aussie guy called Keith who was supposed to stay 3 days and was now on his 15th! He managed to get us some guest wrist bands but told us we had to be in the hostel by 5.30 or we couldn't get in to the party. With that info we headed back to our hostel and began the pre drink whilst we got ready. Turns out that the info he gave us wasn't anywhere near accurate as it was actually 10.30 for last entry. I hate looking ready for a night out when everyone is still in their day clothes so we headed to the beach to have a few more bevvys. Come 7 o'clock I was white girl wasted to the point where I figured if I drank anymore I was going to KO. We walked back to Loki and it turns out it was happy hour, so obviously that not drinking anything went straight out the windows and instead was replaced with many vodka slushies.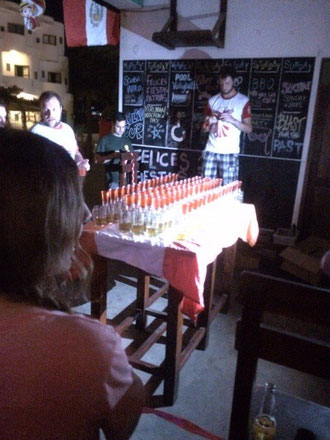 From this point on the night begins to blur, but we met the rest of Keith's friends who we spent the night dancing on tables and chairs with. After Loki closed we decided to go to some concert playing next door however we'd ran out of money so started to go back to the hostel for more.
As we walked through the door our feet were met with a room full of water. Fucking brilliant, the room had flooded and all of our bags and clothes were soaking, just what you want at 5am after a night out. We went to reception to complain to the guy and turns out that the problem happened a lot. With no rooms free we were left with the storage room to sleep in until the following morning. Why you would rent a room out that constantly floods is beyond me, but after spending half an hour arguing with the manager we got a full refund and all we had left to deal with was our hangover from the night before. 
like what you read? Pin it!