13.5250° S, 71.9722° W
Who can say no to free things ? Here's a few things I found during my 2 weeks in and around Cusco, but of course not all of them stick to the rules. 
1) Chocolate museum 
Located in the beautiful Plaza Regocijo, you can walk around the small Chocomuseum and its incorporated shop. Free tours and explanations are given all day where you can learn the secrets of how the Cacao bean is transformed from a plant in to a chocolate bar. Free samples of different chocolates, tea and hot chocolate are also given. If you want to get practical there is a chance to pay for a 2 hour workshop where you will make chocolate starting from its natural form all the way to the chocolate we all have a slight addiction to. This also makes great presents to take home.
2) Compañia Church
This Compañia church may not be big in length, however it rises high above the main plaza. With free entrance a moment or two should be taken to have a look inside the church admire some of its hand carved interior and towering stain glass windows. A woman stands outside the front doors waiting to put Jesus pins on people and then charges them, she also has the smelliest fishiest hands ever, so personally I'd try and avoid her. If your really lucky you may even see a half naked protest like we did. This really brings life to the church.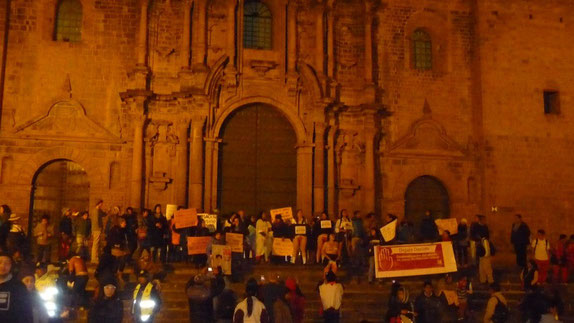 3) Volunteering
Cusco is somewhere defiantly worth staying for a week or two. Why not try volunteering for a few weeks ? Almost every hostel in Cusco are taking on volunteers and most offer free accommodation with either discounted drinks and food or sometimes even free! We ended up getting an amazing deal. After asking in wild rover, they recommended us to their friends (Kiwi, Olivia and Gigi) as Jord is an electrician and they were re-doing some apartments. Not only did we make some great friends, we had our own private room, free breakfast and lunch, we also only worked from 9-2 and got weekends off so could do loads of exploring. Great places to volunteer are Wild Rover, The point, Pariwana or Loki hostel. This is also a great way to meet people and find out who's heading in the same direction as you. But be warned though its common for people to end up staying a lot longer then planned after all the nights roll in to one.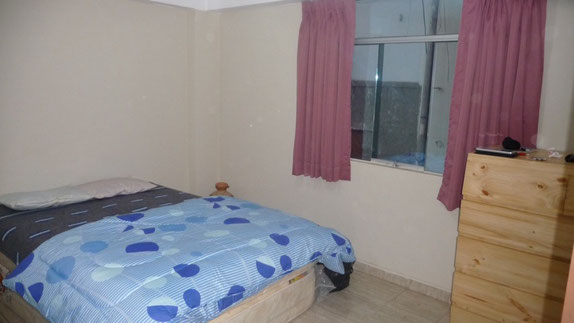 4) Sunday's open mic night - Wild Rover
Like the sound of free drinks and shots? Get yourself up for a song or two and in return Wild Rover will reward you with some free booze. Even if singing isn't your thing, this Irish bar brings in a good atmosphere every night and really gets going with some of the craziest parties in Cusco. After the party, crash out in their comfy beds with a range from large dorms to private rooms, and the showers are super powerful and hot, hot, hot. Lovely jubbly. Check out Kiwi and Olivia as they jam away. They're most like to be found in there every Sunday. 
5) Markets
With these markets popping up every 500 meters or so it's hard not to get sucked in to Cuscos many handcraft markets. Ok they almost all sell the same shit (jumpers, backpacks, necklaces, hats, hammocks) but it's so hard to resist! (At trait I guess I inherited from my shopaholic mother) I bought a pair of alpaca slippers for S/.20 and I swear they're the best investment I've ever made. The largest handcraft market is located towards the bottom of the main road, Tullumayo. Although, you will no doubt pass several on the way to this one. Another large market is the San Pedro market filled with loads of juice bars and also stalls to grab a quick snack. If you really want to get funky with the markets head down the road 'Ccascaparo' from San Pedro and follow the street with fruit and veg stalls until you get to an indoor food market. Here is where all the local Peruvians pick up their fresh meats, you will see cows tongue, sheeps head, cow noses, pigs feet, stomach lining. You name it, they sell it. We actually only went through this by mistake when grabbing fruit and veg, but trust me once is enough.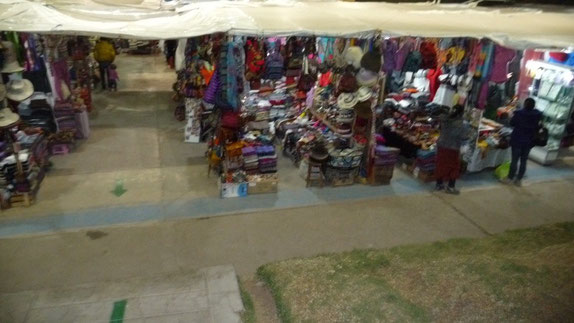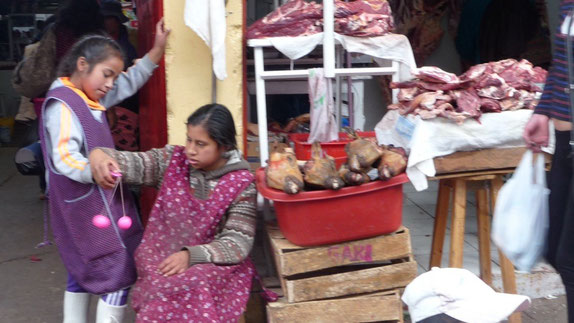 6) Watch the sun set over Cuzco
Stumbled upon after getting lost in Cuscos' many winding up hill streets, this spot is perfect to sit down and watch the sun set over the city. Pick a day when the weather is pretty decent and then from Plaza de Aramas take a 20-30 minute hike up (depending on what way you go) to the San Christobal Church. As the sun sets at around 6pm Cusco slowly begins to light up one house at a time until the ancient valley is fully aluminated. If you head back down the alley on the far left side from the church there's also a great Spanish restaurant where you can get a set menu for S/.25, oh and make sure you leave your print by signing the walls after your meal.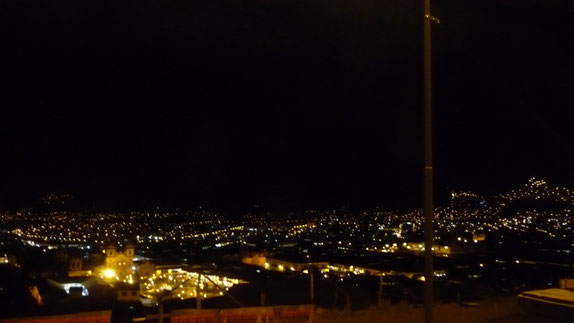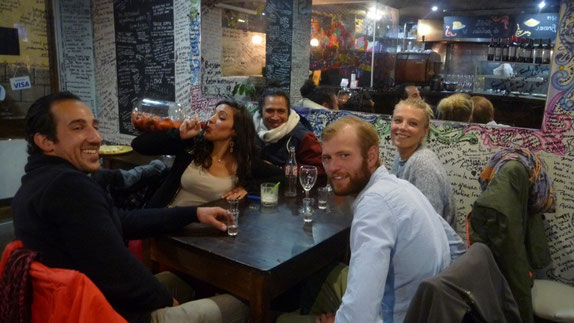 7) Free walking tour
Is it just me, or is it stupid to miss this opportunity? The free walking tour operates all week Monday-Sunday, so take a morning to check out the city with an informative and knowledgeable guide. Guides are available in Spanish, English and maybe different languages if you ask. Head down to the meeting point in the Main Plaza and keep an eye out for guides wearing blue t-shirts with the monkey logo on it.
8) El Baratio
This market literally has everything you could possibly want and need! Ranging from antique grammar phones, camping equipment to brand new shoes there isn't much that El baratio doesn't have to offer. As we walked around looking at stuff for kiwi, olivia and Gigis apartments it was surprising to see how many household things you could pick up for under S/.15 (draws, lamps, rugs) There's also lots of indoor markets that branch off selling new and old clothes. We managed to pick Jord a pair of hiking trousers up for S/.7, also, bearing in mind the size he is (tall not fat) it's been almost impossible to find him a pair of shoes that fit him. Here they had his size at almost every stall and after bartering for 10 minutes or so we finally got a lady down to S/.35.... That's the same at £6! There are also streets selling pure, thick alpaca ponchos that are amazing but at S/.100 and almost twice the weight of me it was something that unfortunately I was going to have to miss out on.
9) The art museum 
Again this was a place that we kind of just stumbled upon. It's pretty much opposite the chocolate museum and displays loads of different types of art. The museum is set out in the traditional colonial style building which I love. Some of the art is replicated Inca artefacts and jewellery presented in glass boxes, which is useful to give you an idea of how they used to live. Some are just plain weird sculptures and paintings but that's what art is right? There was a cool exhibition on show which we walked in to full of paintings of Machu Picchu by just using dots, and a few groovy lama paintings and some of Peruvian woman farming in the snow blizzards at the top of the mountains. 
10) Saqsaywoman Ruins
Ok technically this isn't a free site to visit but we mistakenly ended up skipping the ticket office. As you walk up 15 minutes past the San Christobal church you will come to the exit for Saqsaywoman (but you can also use this as an entrance with a boleto). We carried on another 15,20 minutes further up where you come to the car park and official entrance for the national park, also where you can purchase the different types of boletos they have. I basically needed the toilet, so in I went, did what I needed to and as I came out took a left and met Jord sat on the wall. From here we walked through a few trees and suddenly realised we had totally bypassed the ticket entrance and had got in to Saqsaywoman for free. Nice one geez! There are other ways in that locals use as short cuts but god knows how to get to them. I'm not sure if this will actually work or if we were just lucky but what's the worst that can happen ey? Officially it costs S/.140 for a 10 day boleto for all the Inca ruins in and around cusco or S/.70 with and ISIC card. You can also pay S/.70 which gives you access to the Saqsaywoman ruins and 4 or 5 more.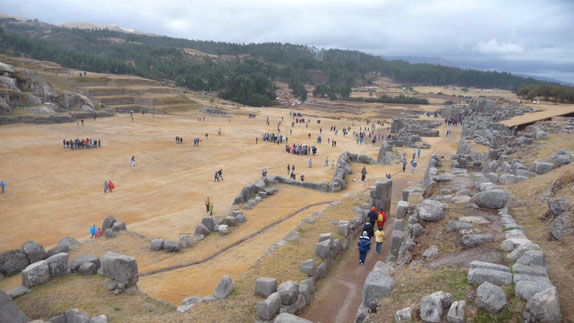 11) Machu Picchu
Ok this is defiantly not free (unless someone out there can enlighten me) but I did say 10 free things, and Cusco isn't complete without a day visiting Machu Picchu, and we may have potentially found the cheapest tour company ever, or at least I feel like we did. Click on the here to find out about the different tours available, or the tour we took and the dilemma we had when we didn't take our passports (make sure you take them!)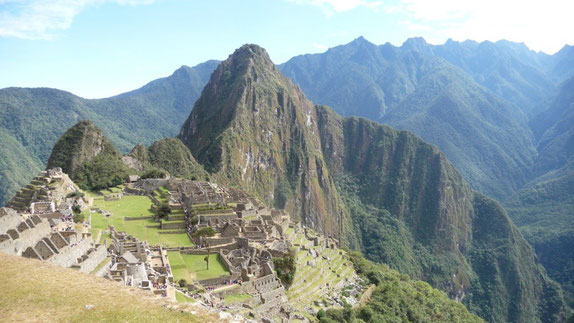 like what you read? Pin it!