13.1633° S, 72.5456° W
As we came to the end of our 2 weeks volunteering with Kiwi, Olivia and Gigi in Cusco, it would be plain stupid not to take a visit to one of the 7 wonders of the world, Machu Picchu. In Cusco you will literally find a tour company every four or five shops, and each one pretty much offers the same tours (click here for a full breakdown). There is basically something out there for everyone and for as many, or as little nights as you want.
Choosing the tour company
We'd decided on a tour company called Super Tours and a few days later went to book up with them. Well you know what it's like with Peru, or in fact most of South America. Chance is, whatever price they say to a gringo (that's what they call anyone who looks foreign, but technically it means Americans) you can pretty much guarantee you're getting ripped off. "Fuck it, let's play them at their own game". My poker face is getting a lot better since I've been here, so when the guy asked what price we had been quoted I straight away dropped the price by 20 soles. "S/.260" I replied, and to my surprise the guy bought it. SWEEET! After talking about the tour for 10 minutes or so we figured we might as well try and push our luck a little bit more. S/.250 was our next price, he replied back with S/.255. This went back and fourth 4 or 5 times ...WHACHA, next game plan on the table was to flash the cash. So out came S/. 500 to pay for me and Jord. $ symbols pretty much rolled round his eyes (imagine Mr crabs from Spongebob) and with that a Del Boy deal was sealed. As we left the shop I couldn't bloody believe it! It was the equivalent to £50, FIFTY FUCKING QUID! Was this potentially the cheapest Macchu Pichu tour EVER?! Now all what was left to see was if this was one of those 'you get what you pay for' situations. 
Hydroelectra Tour
Our tour began at 7.30, Saturday morning, however leaving the apartment at 7.30 meant we didn't arrive until 7.45. The last 2 places in the mini van were up front with the driver, and with everyone giving us evils for being late we quickly jumped in and started the 7 hour drive to Hydroelectra. From the moment we left Cusco the scenery changed between a mix of snow capped rocky mountains in to thick jungle covered mountains. It was amazing, who the fuck would pay $800 to break their back walking 4 days on the Inca trail in the pissing rain, when you can sit on a cushty front seat bopping away to the drivers choice of 'Reggatons Greatest Hits 2015' whilst admiring the unreal scenery?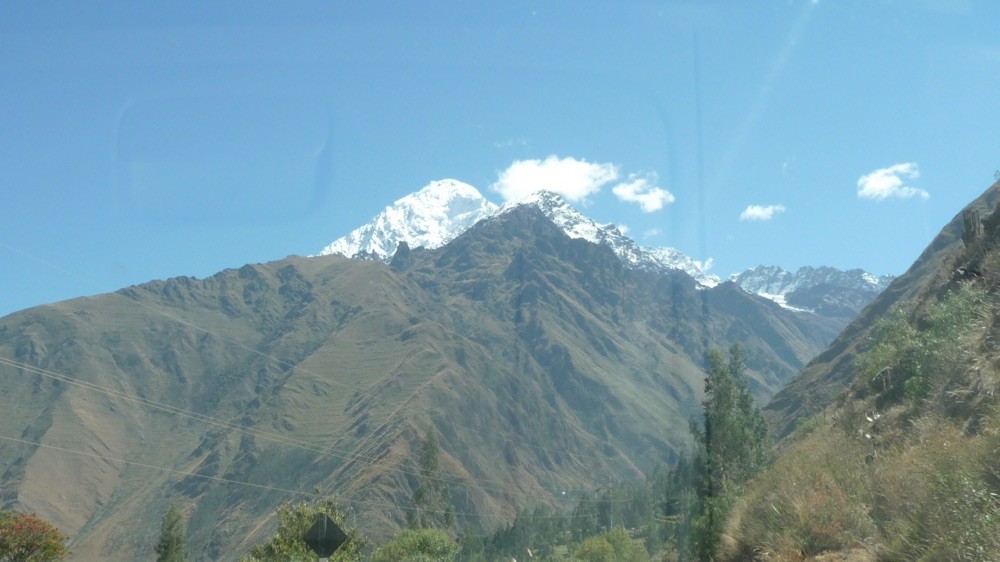 By 12.30 we had already taken a 20 minute break at a local farm shop and were just pulling up to a large shed type building filled with tables and chairs. After a minute or so I realised this was our included lunch. Gone are the days of packed lunch avocado sandwiches and an apple and instead they had been replaced with a buffet! Yes a motherfucking buffet my friend. Ok it wasn't an all you can eat/ Toby carvery buffet, but come one now, we are in the middle of bloody nowhere. They even had chopped bananas for desert washed down with a choice of black or Cocoa tea. We got back in the van and carried on the drive, even though the road changed to a dirt track, the scenery stayed the same and we even drove through some waterfalls that crossed the path. 
Aguas Caliente
We reached Hydroelectra at 3pm and were given the option to either take the train up to Aguas Calientes (the base of Machu Picchu) or follow the tracks on a 2-hour walk. Now I know I said I hate walking but taking the train really takes the piss. You have to do at least some kind of 'trekking' right? The walk was 2 hours and was pretty much flat the whole way. As we followed the river round, we were followed by colourful butterfly's and met with amazing views of the back of the ruins, Machu Picchu mountain, wiñaypicchu mountain and their surrounding sisters.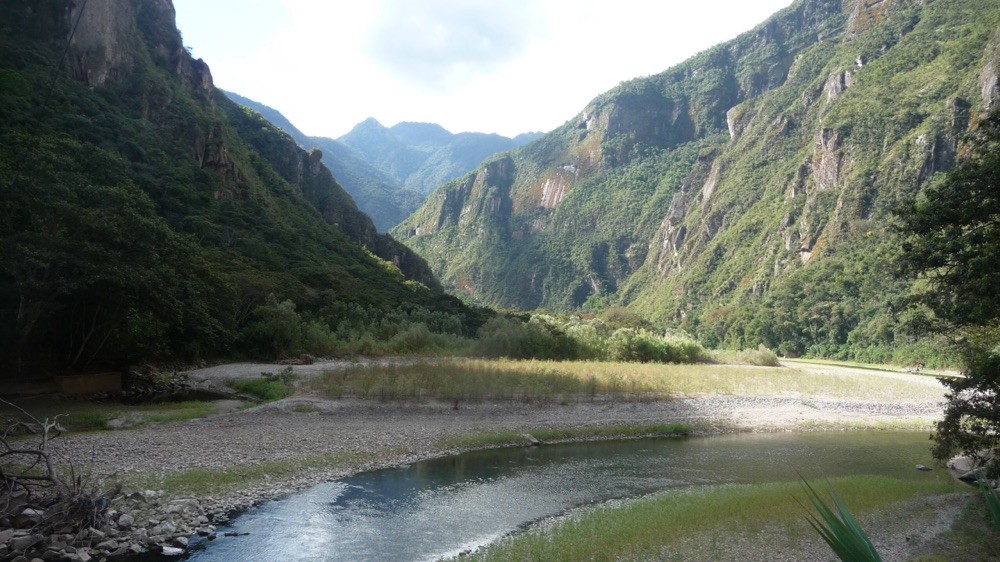 When we arrived in Aguas Calientes we met our group in the town square before heading to our hotel. The first thought through my head was 'great this is where we end up in some dingy shithole, layering up until resembling the Michelin man to keep warm in bed.'
Infact we had a bigger problem than that. As we began to check in to our rooms everyone was asked to get their passports ready for ID and as a requirement for the Machu Picchu ticket purchase.
"Erm...... Jord. We don't have our passports"
As we put down our ISIC cards on the desk the lady and the guide both looked at us and shook their head. 
Fuck, what were we going to do? Luckily I remembered we had both sent ourselves copy's to our emails in case we lost them, so the hotel printed us of a copy. Although, this still didn't guarantee we would be sold entrance tickets. 
As we opened the door to our bedroom, we were met with a double bed facing a flat screen TV and on the bed were two towels in the shape of two swans kissing. 
"Towels! You know what this could mean, could it be? Yes, yes we do. We've got hot running water" 
Fellow backpackers you will understand what this feeling is like. And after only having 2 hot, not semi warm, but hot showers our whole time traveling I was over the moon.
After showering and changing we re-met our tour group in the square at 7.45 and our guide gave us the S/.130 for our student tickets to Machu Picchu. Now was the time when we would find out if our photocopies would work or not. The guy began to write down our info on a ticket. Yes we've made it, phew. Just as I think everything is going smoothly. No, sorry your ISIC cards aren't green and you need to pay an extra S/.130. 
Your fucking joking right?! The only reason we had bought the bastarding cards was for the 50% discount to Machu Picchu, and now we couldn't even use them. He wasn't having any of it, he wouldn't even look at the cards. After spending 30 minutes arguing with the bald headed fuck-whit, we realised we weren't getting anywhere and were going to have to cough up the extra cash. Only problem is I only had S/.80 on me and not enough left on my travel card. Thank god one of the girls in our group lent us the money otherwise that would have been Machu Picchu nearly Concurred, but not quite. So if you question is do the IYTC ISIC card work in Machu Picchu. The answer is no. Plain and simple no
With the palarva over and our tickets finally bought, we joined the rest of our group for the included dinner, which again was spot on. A starter of asparagus soup was served and then we were given the option of 4 different mains. After dinner we headed back to our hotel and prepared for a 4.00 am start and a 1 hour hike up to Machu Picchu.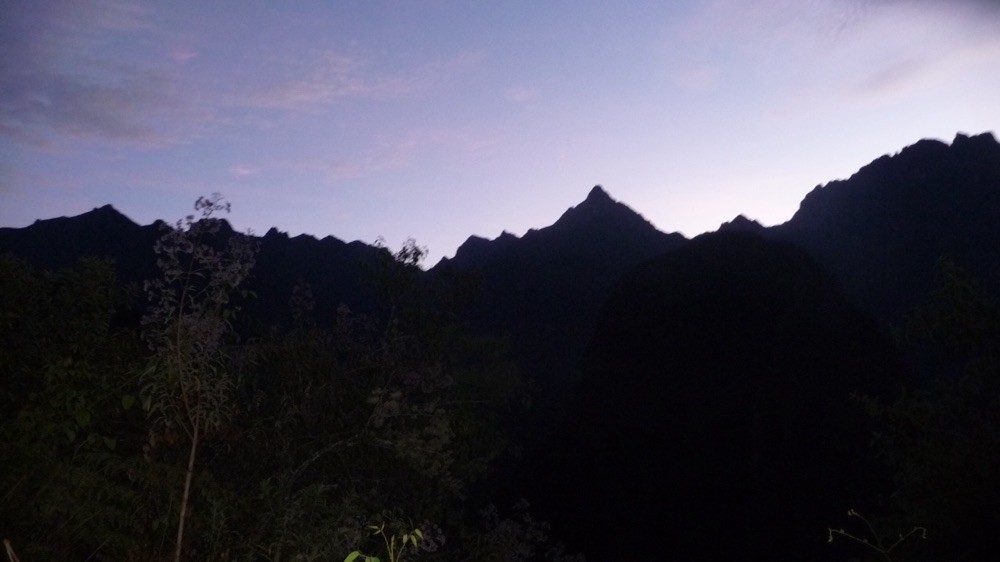 Machu Picchu
4.30 am and the 1 hour hike begins. At first you don't think it's that bad as the stairs are pretty spaced out and not so steep, but come the second set and it's a whole different story. The hike is a bastard, apart from the whole deep panting, heavy sweating and running out of oxygen thing, you also have those grade A wankers who think they're super macho and push past you, only to pass them yourself when they're sat on the side gasping for air and your still at your steady pace. I managed to reach the top in 45 minutes and also managed to catch Jord up who had powered ahead of me.
As we entered the site of Machu Picchu it was literally breath taking. We gathered with our tour group and spent the next two hours going back in time to when Incas ruled Peru and gave life to this amazing hidden city. Some people were mental enough to do a further 2 hour trek to either Machu Picchu mountain or 1 hour to wiñaypicchu mountain (and the same distance down) but me and Jord opted for the chilled out option. We spent the final hours sat in the sun looking out at the ruins before making the 3 hour decent back to the mini bus. Words can't describe how surreal the ruins of Machu Picchu are, but it's safe to say it's one of the most incredible places is seen on earth.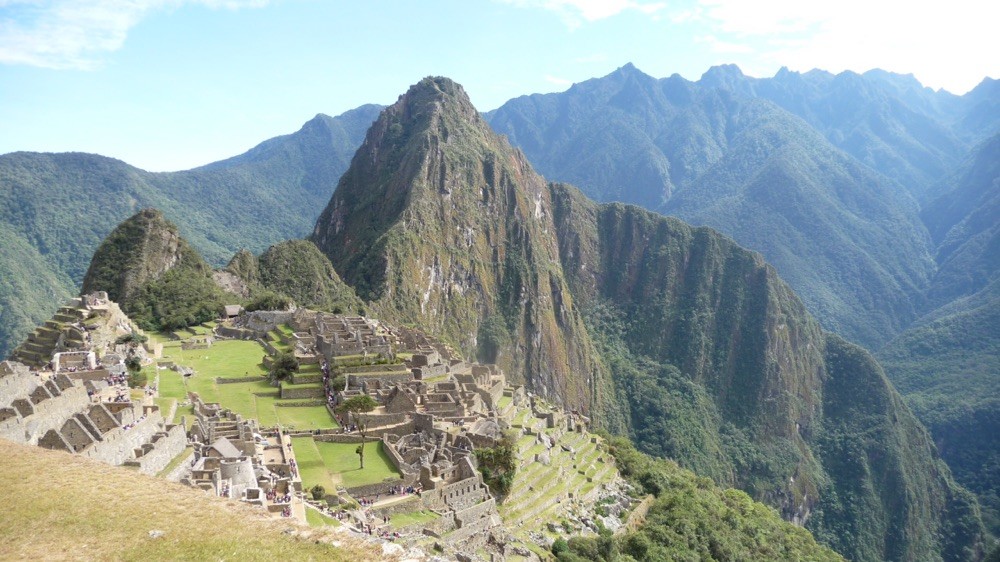 like what you read? Pin it!