13.5320° S, 71.9675° W
Hidden away in the foothills of Cusco lies a wonder of the ancient world. Machu Picchu is for sure one of those jaw dropping places that should hold a spot on everyone's bucket list. With so many options to see this treasure it's hard to figure out which is the best one to go with. Do you walk the original trail of the Incas, take a route bursting with adrenaline or maybe walking isn't your thing and you want the easy way up? Here are all the options available to help you decide what is best to make your Machu Picchu adventure perfect for you.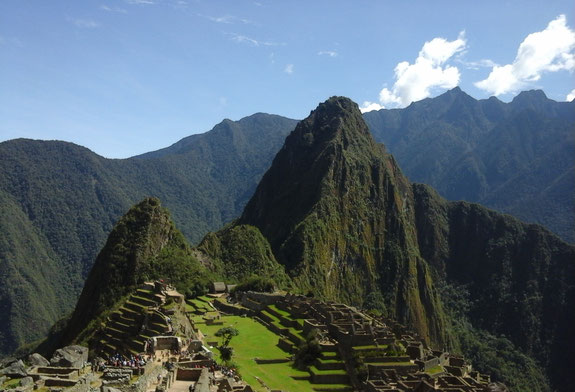 What should be Included in overnight tours?
Although services can vary from operator to operator, the following services are usually included: Bus from Cusco to the beginning of the trek, bilingual guide, assistant guide for groups of 9 people and more, entrance tickets to MP (included with trek permits), cooking equipment, tent, sleeping matt, meals, a cook, porters (to carry the tents, food and cooking equipment only), a night in a hostel in Aguas Calientes and return trip to Cusco. Be sure to check what is included when you pick your tour operator.
The Classic Inca trail                                                                                     $800-$1000
This is South Americas most famous hike and one of the worlds most renowned. The 4 day guided tour takes you through the sacred valley where you climb your way up the steep track to the dead woman's pass reaching the highest and most exposed point of the tour at 4200m. Along the journey you will stop at various Inca ruins (Huilla Raccay, Runkuracay, Sayacmarca & Winay wayna), walk along original Inca paving and pass orchids and hanging mosses before going through an Inca tunnel. Day 4 starts a 4,30am ensuring a pre sunrise arrival to Machu Picchu via the Sun gate. Tours need to be booked several months in advance as demand is high and there are only 200 permits per day. There are also 2 and 5 day Inca Trail tours available with some company's and the option of sleeping in hostels for a higher price, these will also need advanced bookings.
Salkantay Trek                                                                                             $400-$600
The Salkantay trek is a beautiful hike that is known worldwide for its jaw dropping scenery. It's often the alternative to the Inca Trail and if nature and long treks are your thing, then you won't be disappointed as hard work and determination brings you through a mixture of Snow-capped mountains and dense rainforest. The trek is 5 days/4 nights with the highest elevation reaching a whopping 4,600m at Salkantay pass. From this point you will be able to see the full range of mountains and their staggering glaciers before heading down the opposite side through the jungle past streams and flowing waterfalls. Once reaching Santa Theresa you will be able to spend the rest of day 3 bathing in the hot springs and relaxing your muscles. The following day you will reach Aguas Calientes by a mellow 6 hour hike or there is the option of a bus from here. The final day is a 4.30am start and a full day exploring Machu Picchu.
Quarry Trail                                                                                                   $200-$300          
If your still wanting nature but something a little easier, then the Inca Quarry Trail will be perfect. With 3 days of hiking and a much quieter trail it is a highly recommended trek for a more relaxing (Although still hard work) journey to Machu Picchu. Highlights along the trail include the Perolniyoc Cascade, Qorimarca Achitechture site, a hike up the pass of Puccaqasa for the best views in the andes, a further hike to the Kuychicassa pass at 4450m, the ruins of Inti Punku and the Kachiqata Quarry. Once in Kachiqata there will be transport to Aguas Caliente followed by day 4 in Machu Picchu.
Jungle Trek                                                                                                   $250-$350           
A 3 or 4 day adventure packed alternative route is a great option for any thrill seekers looking to incorporate hiking with extreme sports. After reaching Abra malage at 4300m by bus, the tour will commence with a thrilling mountain bike adventure down winding roads, past cascades and through mountain villages as the scenery changes from snowy peaks to thick jungle. Once arriving in Huamanmarca there is the option of rafting (additional $30) or some Andenean jungle trekking. Day 2 kicks off with a short but intense hike to the original Inca Trail and carries on for another 14km or so before stopping for a well-earned hot spring. The penultimate day of adventure can be spent soaring above the jungle on a zipline (additional $30) or trekking before the tour re groups at Hydroelectra for the walk to Aguas Calientes and the early start for Machu Picchu.
Hydroelectra                                                                                                        $120
This is a great laid back way to see Machu Picchu that is spot on if you're on a tight budget or a small timescale. This 2 day option includes a beautiful drive through the mountains to Aguas Calientes, A 3 hour hike along the river where you can see the back of Machu Picchu and her surrounding sisters and the intense 4.30am hike up to Machu Picchu along the original inca steps. Click here to read about my experience on this tour.
Machu Picchu Train                                                                                             $250
If you only have 1 day to spare or walking really isn't your thing, then you can jump on the train that will take you all the way up to Aguas Calientes followed by a 20 minute bus up to the ruins themselves for a guided tour. This option is an early riser starting at 4 or 5am as you are driven to embark the train at Ollantaytambo station, Its then a 3 hour sceninc journey up to Aguas Calientes and Machu Picchu. Once finishing your day it's a return route to Cusco or if you want you can walk down to Aguas Calientes Station from MP. Prebook these tickets with either Peru Rail or Inca Rail to avoid disappointment
Train to Aguas Calientes                                                                                     $17
If you have your own transport or don't fancy the 3 hour stroll from Hydroelectra, there is the option to jump on the 20 minute train from the bottom and it will take you all the way up to Aguas Calientes.
Bus to Machu Picchu                                                                                          $17.50
Once at Machu Picchus base town, the 1 hour 4.30am hike from Aguas Calientes can be pretty tough. Especially if you have spent a few days trekking to the base on one of the above tours. Give your feet a rest and jump on the early morning bus that will take you to the park entrance and will often beat the guys that decided to hike. Pre-book tickets the night before in Aguas Calientes if its not included in your tour.
Machu Picchu Entrance Fee                                                         126 S/. p.p or 64 S/. Student
The entrance fee should be included in your tour that you booked. You can also pre book the entrance from the official government website online from here to ensure you have a ticket and then subtract the price from your tour, or buy them in Aguas Calientes although there are a limited number of tickets to the site per day so best to ensure with your tour company or pre book. If you are a student you will need to have a valid ISIC card (IYTC cards DO NOT WORK) you are eligible for 50% discount. There are also limited numbers for the extended hike of huayna picchu so you may also want to book these in advance as a combo with your entrance ticket. 
Tips
·         The Inca Trail and Train are the only tours that need pre-booking to avoid disappointment. All other tours can be booked in Cusco for a much cheaper price then online
·         Check your tour includes all the things listed at the top as this will make a big difference to how you find it, remember you get what you pay for!
·         Try and pay in soles if possible. Most companies want the cash in dollars but it will be cheaper in soles
·         Although a lot of people do these trails everyday they are challenging and take a moderate level of fitness
·         Make sure you give the correct name details and take your passport as you will likely be turned away if you can't provide this ID or match it to the name you gave
·         Be sure to acclimatise in Cusco for 2 days if just arriving as altitude sickness is common and can ruin the experience
·         May-October is the best time for the treks as this is the dry season. But June, July and August are insanely busy
·         Most treks close during the month of February due to weather or for maintenance (including the Inca Trail)
·         EVERYTHING is more expensive in Aguas Calientes so bring snacks and WATER!
·         Pack for all weather occasions, rain is not uncommon and it gets very cold once the sun goes down
Like what you read? Pin it!