38.4333° S, 71.8840° W
After only managing to make it just past the town Concepcion with hitch hiking, it meant that we had to find a place to set up camp. The plan was to spend the night at 'Salta de Lajas' which is a beautiful waterfall, but as buses had stopped and the public kept on whizzing by, we chose a near by woods to spend the night instead. The next morning we woke up with the sky pissing it down. We quickly packed everything up (packing up a soaking wet tent in the pouring rain is not fun!) and headed to the bus stop.
The bus took us to Temuco and luckily we got speaking to a guy who was driving his lorry to Argentina and passing by corralco. Perfect! So we jumped in and began the short journey. He explained about the 2 possible towns to stay in, but then rang his friend who told us she has a friend with a hotel in Malalcahuello (try saying that when your drunk) who could give us discount. Anyway, if worst comes to worst we have our trusty tent.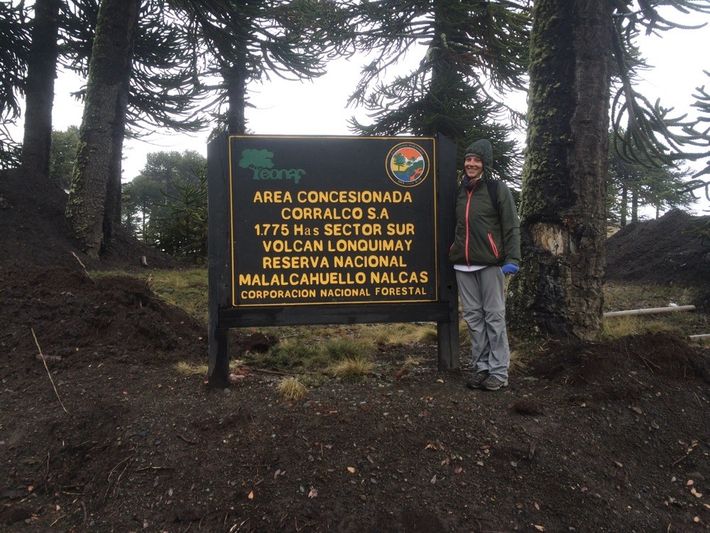 He dropped us off and we ran down the road and headed in to the closest cafe to shelter from the rain and figure out where the hotel was. We dried off and I tried to remember the name of the hotel but had no idea, and with the rain showing no sign of stopping or becoming lighter, camping was off the cards. So instead we began the search for another hostel. They all came up at 30-40,000 CLP (£30-£40) per night which was way beyond our budget level, but with no way of getting back to Caracoutin (the town before) I quickly ran around to check the price of the only hostel in Malalcahuello.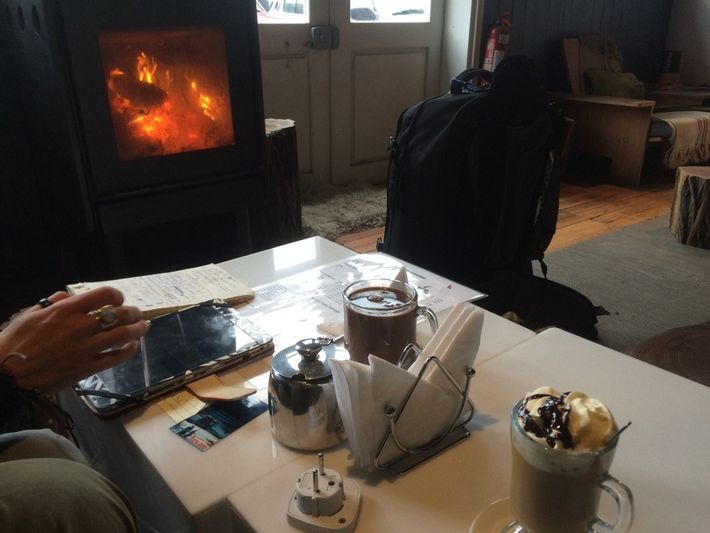 We were offered a small double bedroom in a family home with use of the shower and kitchen for 15,000 CPS for both of us. Very cheap but we didn't want to be staying in someone else's house. She then showed us the cabaña (which was very basic) in the back, although we would have it to ourselves for the same price, so obviously we decided to take that. As we walked to the shop for some food we decided to ask a guy on the corner how much his luxury cabaña was going for...yano, just to what we would be missing out on. Before quoting us a price he took us to see it, it was a nice and cosy wooden cabaña with a log burner, large kitchen, a double bedroom and another one with 2 singles. "CPS 40,000" he said. Pffffft, We realised this was peak season prices so ended up getting him down to CPS 30,000, but still couldn't justify spending double per night just for bigger accom.
We headed back after the shop and thought we would ask him again if he wanted to rent it for 20,000. After 10 minutes or so he finally said yes. BUZZING, we ran back to the hostel, grabbed our bags, made up some story about why we had to go and got the fuck out of there. As we opened the door we both started doing gay little happy dances to celebrate our luxury accommodation for normal human being prices. It got even better, the flat screen TV worked with my hard drive which meant we could sit and watch movies. And movies are always accompanied with a glass of wine, or a 3 litre bottle if your in the worlds wine capital. The whole reason we came to this town was to ski, but as the wind and rain carried on for the next two days wine and movies in our cute little cabaña was defiantly the better option. We all know the two come hand in hand.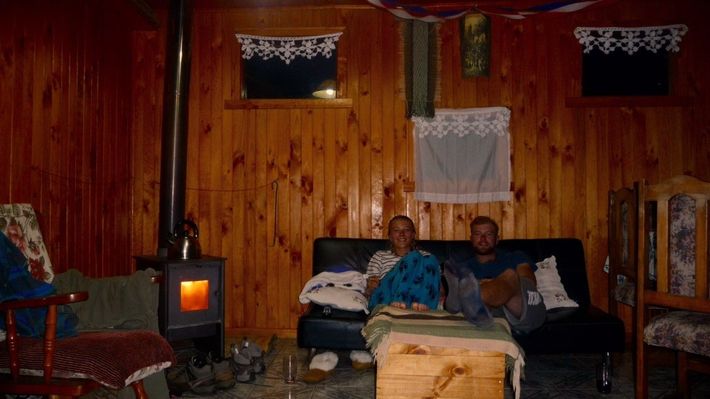 Finally after 3 days of waiting, we woke up to a morning without rain and wind. In fact the sun was even out. We chucked on our ski stuff and began the hitchhike to the mountain. It's so stupid that a ski resort doesn't have a connecting bus from the village to resort, which means that even though we got a hitch from a lorry to the end of the road, it still meant that we had to walk an hour and a half uphill before finally a car decided to stop and take us the remaining 2 miles. 
By the time we got to the bottom of the mountain it began to rain. The sun was long gone, but after our effort getting there we decided it would be stupid not to ski. We struck a deal with the guy in the rental shop and he ended up giving all my equipment for FREE, no cheeky boob flashes involved, it was purely because he was a nice guy. It was ace and meant that all we had to pay for was Jordan's rental and pants hire. As we geared up and went to buy the lift passes we got even more discounts - two for one at CPS 25,000 (£25). Which meant that we both had a pass and both had equipment that we worked out cheaper than a days lift pass in Anton. What !!!!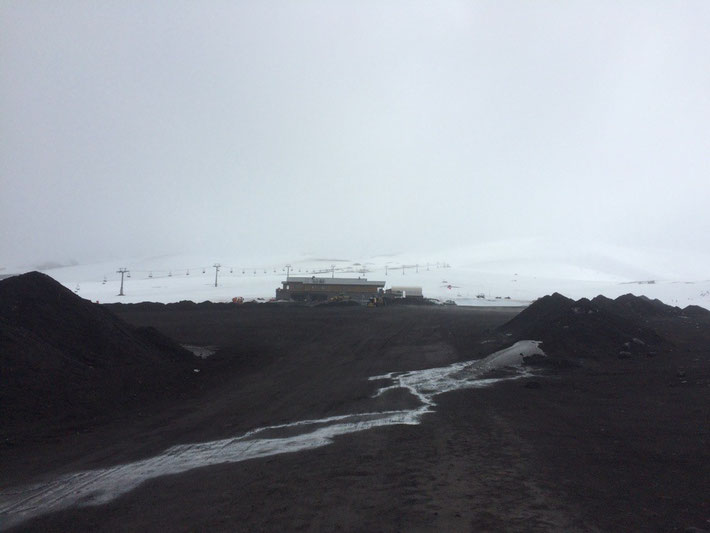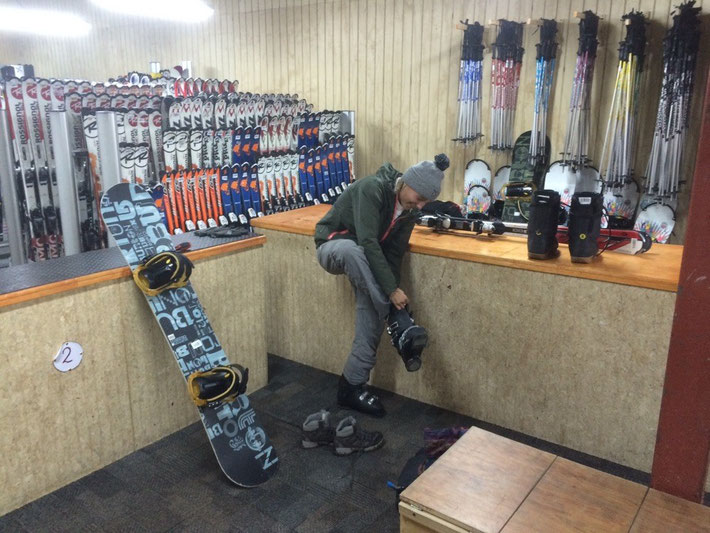 As we did a few warm up runs the clouds became to roll in, and by our 5th or 6th ruin we were both soaking. We made a quick stop for lunch before heading back on to the slopes. Total whiteout, heavy rainfall, the snow was quickly becoming slush and as the lift began to shut one by one we realised we were fighting a loosing battle. Fuck it, we skied in chile and even better it was on a volcano. Who cares that the weather is shit we still have half a bottle of wine left in the cabin.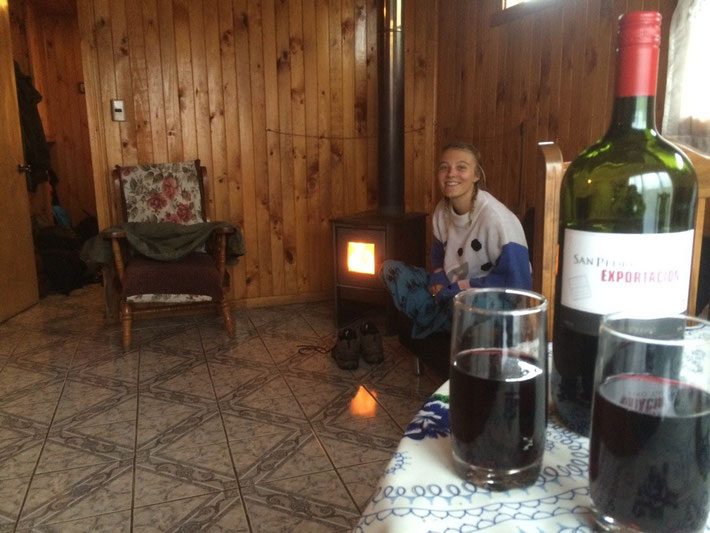 We managed to hitch a ride back to Malalcahuello with a German touring group who had also given up skiing because of the shit weather. Their guide was a local who owned a piece of land with a waterfall running through the middle of it. Which was pretty cool because it meant we had a mini free tour before being dropped back. The night was of corse having après in the cabin and getting ready to make our departure to Pucon the next day.
Like what you read? Pin it!