20.1338° S, 67.4891° W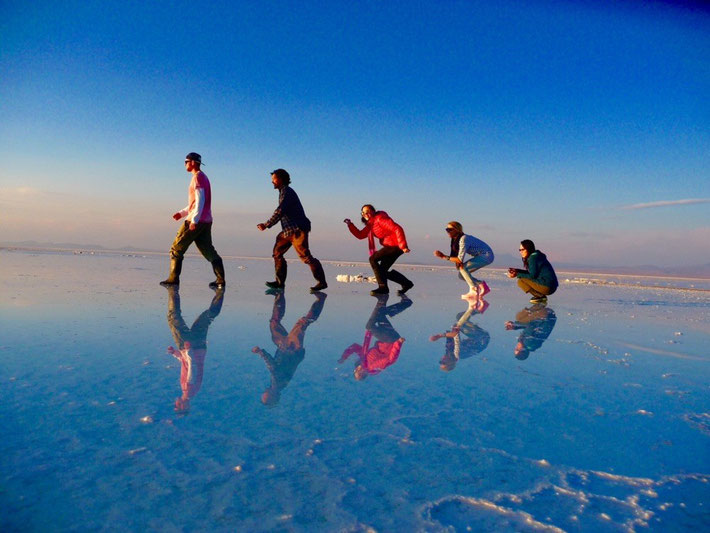 When I arrived in Uyuni at 5am I stepped off the bus and was bombarded by people trying to sell me tours, shoving flyers in my face and even trying to take my luggage so you go with them. The tour sellers get a little crazy here so the best thing to do is head over to Café Saltir 3 blocks from the terminal as it's the only place open at that time and to get out the cold until the tours companies open. Directly opposite Café Saltir is the best tour operator in Uyuni, Brisa Tours. If your stuck with what tour to take here is a breakdown of the available options and the prices (2015)
All tours include transport in a 4x4 and hot meals
1 Day tour 
Price: Bs.150 (£15) It was meant to be 180 but we told them a friend recommended us
Leave Uyuni at 10.30 and drive to the Train Cemetery (it's literally 5 minutes out of Uyuni) 
Colchani, this is where the water under the salt pushes air up and creates bubbling salt pools
The salt factory and a handcraft market 
Salt Hotel
Volcano Tunupa (this wasn't meant to be included on the 1-day tour but they were happy to take us there)
Fish Island (an island with no fish, but completely covered in cactus, erm...)
Photoshoot on the salt flats (be careful with running...you think I'm joking, I fell through the flats and took all the skin of my knee)
Sunset on wet are
Return to Uyuni
San Pedro by bus from Uyuni: A bus leaves every morning at 4am for Calama for Bs.150 It takes you through the border crossing and then once in Calama change bus and carry on to San Pedro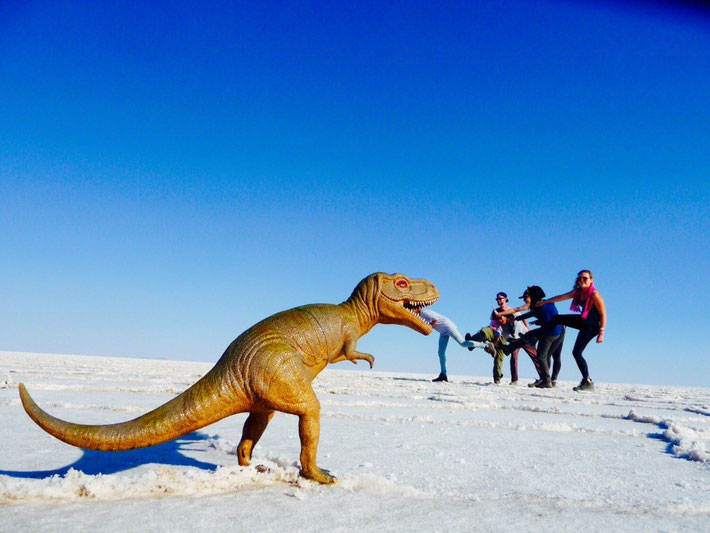 2-day tour
Price: Bs.400 (£40)
Day 1- Same as 1-day tour apart from you end your day at Volcano Tunupa, Spend night with a family in the Tunupa village
Day 2- 7.00am start to climb Volcano Tunupa, Visit mummy's (chullupas), Return to Uyuni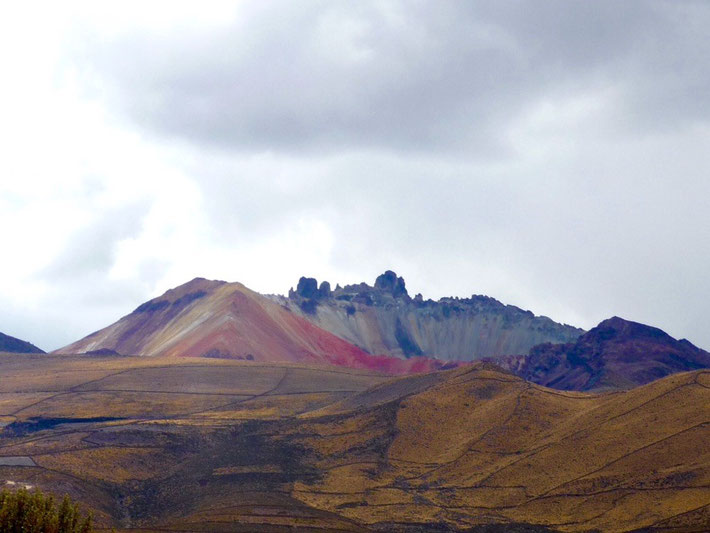 3-day tour
Price:750 (£75)
Day 1- same as one day but you stay in the Salt Hotel
Day 2- ollagüe Volcano, Hedionda Lagoon, Cachi Lagoon, Siloli Dessert
Stone tree, Colorado Lagoon (sleep here)
Day 3- Red Lagoon, Sol de mañana, Geyser, Fumarolas, Hot spring, Salvador Daly Desert, Laguna verde, return to Uyuni or transfer to San Pedro, Chile.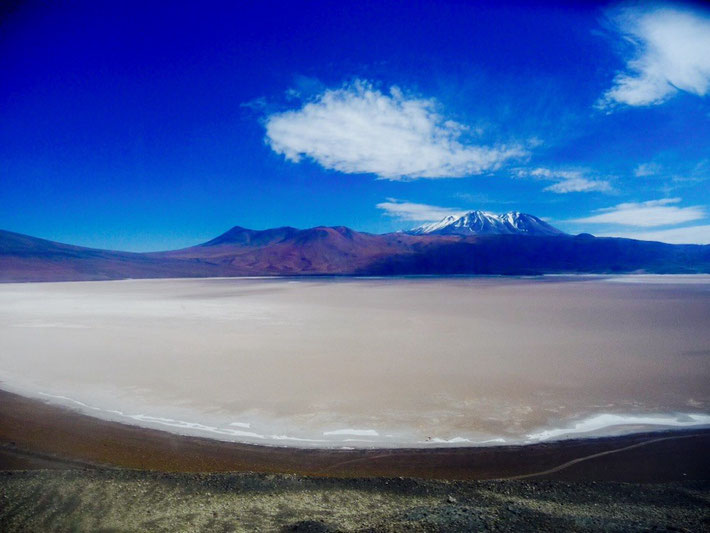 All of the tours listed above offer such an amazing experience, for me the 1 day was perfect and fitted in with our schedule. The slats were also one of my South America trip highlights, but don't miss out on the 2 or 3 day if you can spare the time and money because they are just as rewarding. Our friends who a currently cycling South America found the volcanos and lagoons seen on the 3rd Day one of the highlights of theirs trips and actually didn't really enjoy the flats themselves. Although I guess after cycling 9 hours (yes 9 long hours) over a white plane who wouldn't go crazy.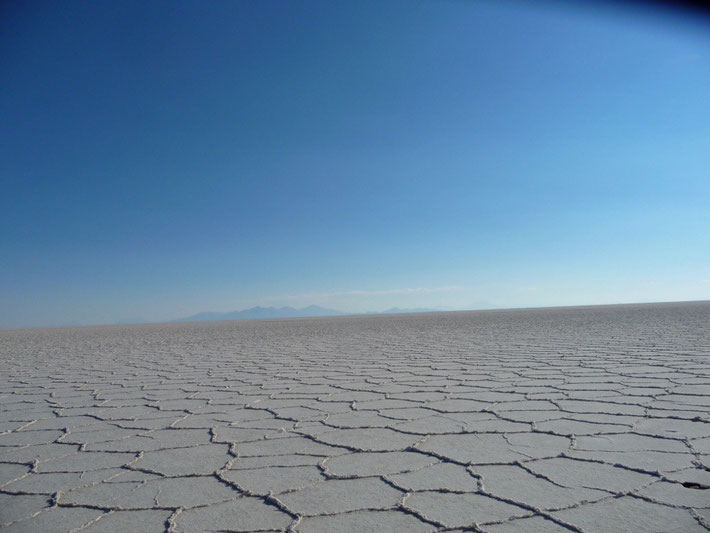 Why chose Brisa?
Most company's offer you pretty much the same deal for the same price however what they do not tell you is that there is a section on the flats that is always covered by water so you can guarantee getting the reflection shots. I asked so many companies and their response was its only possible when it rains, or that the wet area is behind the volcano and it's too far to get to in one day. It's all bullshit my friends. Brisa is one of 3 companies that offer AND DELIVER (don't be fooled). Not only do you get some great photos but watching the sun set and the stars begin to appear in the sky, and on the reflection, is one of the most magical views you will experience. A guy on our tour came all the way back from Argentina just to get the reflection shots, now that's saying something! We didn't manage to stay for all the stars to appear as the girls on our tour needed to catch the 8PM bus to La Paz (it runs every night) but if you can stay for it, it's 100% worth it. 
Don't have much time in Uyuni? That fine too, Brisa also offer Sunrise and Sunset reflection tours which are around 4 hours long and include seeing the clear star filled sky and of course the sunrise/set. This is also perfect if you already paid for a tour that don't offer this.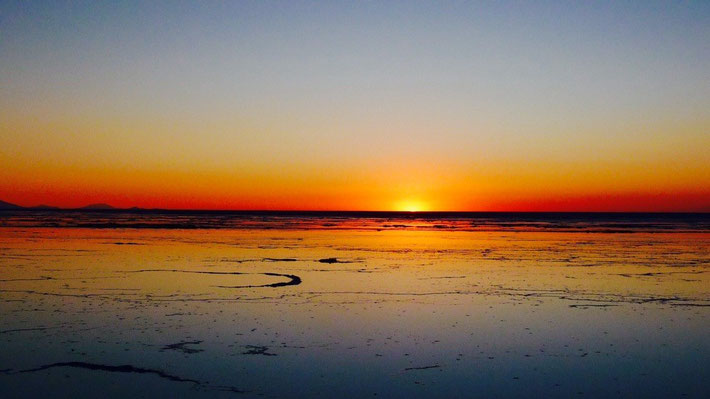 like what you read? Pin it!