50.9423° S, 73.4068° W
Things are just getting rediculous. Last night was bloody freezing and for some reason everyone's stuff is soaking. Oh wait yep, I remember why, it only decided to snow the whole night didn't it. My first reaction to when I saw the snow was instantly snowman!, but that was before I realised it meant we couldn't do any of the treks we had planned and there wasn't a chance we were spending the day in a dripping wet tent. We had also left all our crackers out because the wine got to us again, and now all the packets were open and being scoffed down by a giant hawk and his mates.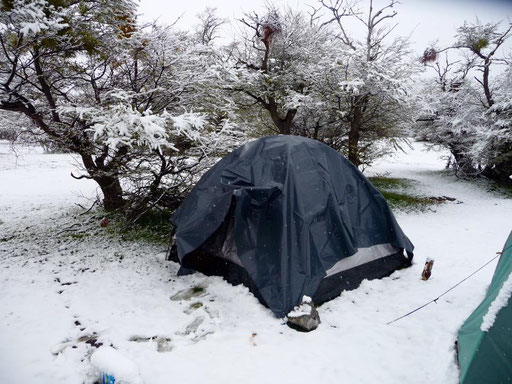 With the day's plans ruined and everyone in a foul mood, people were swaying to leaving the park there and then. Erm no, I didn't come to the south of Chile to pack up and leave because of a little snow. I was still up for at least a small trek even if it meant going by myself whist the others waited in the car. After a lot of debating and decision making we finally decided on driving to the waterfall on the far side of the park and doing the small 1 hour trek there. Not quite what I wanted but the most that was going to happen today. 
By the time we reached Salto Grande waterfall I guess everyone started feeling a little more happy and we were back to exploring and taking pictures. The waterfall is pretty powerful and you could see the water hurling back on itself as it crashed on to the rocks below. We walked around for a little but the girls weren't up for too much exploration, so me and jord carried on the trail. We didn't actually follow the trail and ended up just walking along the rocks. I'm pretty certain that the route we took was defiantly out of bounds, but due to the fire Torres del Paine had, the boundary posts had been burnt down. I'm kind of glad though as this was my favourite place in the park that I managed to see. It was a pretty cool feeling to stand on the edge of the turquoise Mirador Cuernos lake whilst looking at the gigantic Cerro Paine Grande and the huge glacier shining over its top.
Happy with my walk, me and jord walked back to the car to meet the girls. We prepared some lunch that consisted of Tuna mayo sandwiches. Now, we have been eating tuna mayo sandwiches every day for a solid week. Today was the point where we all cracked. Reanne, a vegetarian who has never eaten tuna before and who hates sweet corn slowly forced each mouthful down. I managed 3/4s of the sandwich and Mandi just wasn't having any of it. I think it's safe to say there and then was the end of tuna mayo sweet corn 
Everyone was tired, all our camping stuff was soaking, our clothes were filthy and we were all in need of a decent meal, so we headed back to backpackers Nataly for some home comforts, a laundry service and a night to dry everything out.
---
---
Like what you read? Pin it!