43.4645° S, 170.0176° E
Walking out of the DOC centre in Haast it was of course still pissing it down and we were still soaking. With most of the activities to do around here being long walks, I guessed this was going to be one of those days spent covering a bit of distance and then chilling in the car. After 40 minutes of driving we pulled in to the Monro Beach car park to make up a bit of lunch and plan what our next move was going to be. As Jac looked up things to do in the area, he realised we were at the beach where the rare Tawaki penguin breeds. 
Ooooh I do like penguins. The walk was 45 minutes to the beach which aint all that bad, but 1 and a half hours return in the rain. would it really be worth it? 
Fuck it, Wolfgang.  Our snow pants were in the boot and if we didn't do something, then I guess we'd spend the day festering in the van. So we grabbed our sallopets from the back, chucked on a shell jacket and with full waterproof protection began the walk to the beach. The actual walk there is through forest canopy and when it's been tipping it down is also through some pretty big puddles. Then right at the end of the forest it opens out in to a small quaint beach with rocks and cliffs either side. The weather was still of course rainy, and holy shit the winds were strong on the front. Strong to the point where I could throw my body forward and not land flat on my face.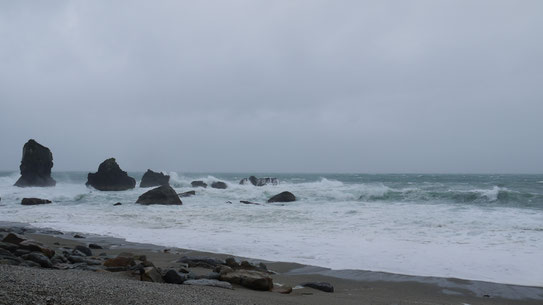 we had a little wonder and gendered for penguins then spent about 30 minutes waiting, but I guess we were too early though as the best time to see them is Dusk. Some people arrived with binoculars and looked like they could be in it for the long haul as the dude had waiders on and everything, but I wasn't sitting around on a beach in the rain for much longer than what we'd been there. so me and Jac headed back to the van after our small adventure and started the journey back north on the west coast highway. 
The drive was pretty long as we couldn't really stop off anywhere so as we arrived in Fox Glacier I was ready to call it a day. The campsite we were staying in was just opposite the Glacier road entrance so we figured it would be a good starting point for the morning. That was until the rain all of a sudden stopped and out came a little sunshine. Sweet I guess we should head up to the glacier now then.
The walk up there was fast and it was a pretty impressive glacier, but being me I wasn't satisfied by just looking at it, I wanted to be on it. 'I do not like where this is going' was Jacs response. But never the less I began the walk from the lookout over the rocks towards the glacier with Jac following behind. As we both work as Ski guides we assesed the conditions and found the rocks were wet, and after a heavy rainfall we could tell that the rubble and sluff could easily slide. Jac suggested we head towards the glacier via the valley floor, of course I took his advice and we started walking back down towards the river bed.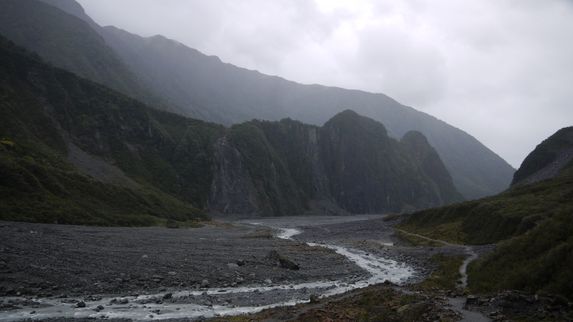 The walk along the valley floor was a lot easier. I wouldnt advise this for just anyone, WE ARE BOTH MOUNTAIN GUIDES with knowledge and experience of ice, rock, snow and avalanche terrain and dangers. We carried the walk along the glacier moraine for about an hour and made it a fair way up which was pretty cool but as it was getting dark and droplets began to fall again it was defiantly time to turn around. Yano, sometimes it's hard to turn around when you have a point or goal you want to reach, but it's really important that if conditions change or you get a gut feeling something isn't right, then you do turn around.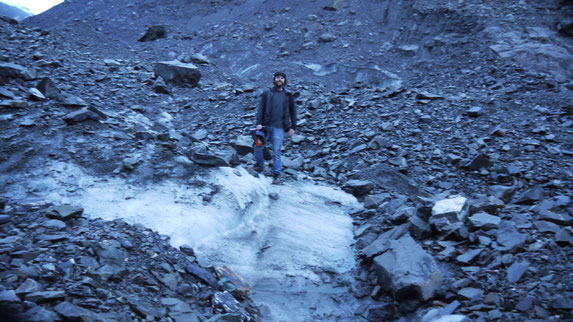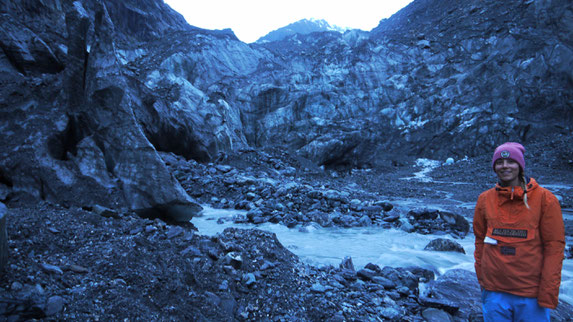 The day had turned out pretty sweet considering we thought we'd be cooped up all day but by the time we got back to the car, we were again soaking wet. So we pulled up at The Big Foot restaurant and ended the day with some good food and a few beers as we dried off and stole a bit of electricity to charge our laptops (which of course we forgot when we left and had to drive back for, Typical) 
Like what you read? Pin it!