54.8019° S, 68.3030° W
The next day we started early and then we had finally reached our most southern destination, Ushuaia. In fact It's is the most southernly city in the whole world, where we stood below 99.999% of the human population. I get very excited about this fact as its not something someone does every day.
The girls checked in to a hostel as they had given up with camping and it was better for Mandi after her operation. We left them, to chill out for the night and decided to have a walk around the city until it was time to camp. With a huge port shadowed by snow peaked mountains, Ushuaia is very picturesque and the town doesn't let you down either. It's full of shops that basically sell everything I want to buy (mainly mountain gear) and amazing restaurants. Argentina is ridiculously expensive so apart from a bit of window shopping and crying over gourmet menus we headed back to the car. We did stop by the tourist office just to see what we could do the following day and also got the end of the world stamp in our passports and a picture with the sign (defiantly though it would be a bigger sign)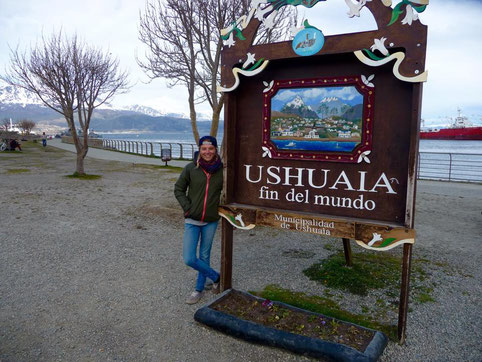 On our way in to Ushuaia we had seen an area that looked perfect for camping so drove to Rio Olivia (10 mins out of the city) to scope it out. I'm so glad we went there because it was basically the perfect camping spot. Loads of fire pits had been built in a huge woodland area that was right next to the river for people to camp, and it was totally free. We pitched up and then went on the hunt for wood. This turned out to be pretty easy as one of the reasons the camp area had been built, was because the trees are falling down. Sad I know, but at least it's being put to good use. As we sat drinking rum by a blazing fire, we spoke about our journey so far, and how we had come from the north of Colombia all the way to the very tip of Argentina. Not a bad end to the day.
---
---
Like what you read? Pin it!