43.6747° N, 142.9072° E
Day 1 - Asahikawa
With Chinese New Year out of the way it meant work was quietening down and it was finally time for a holiday…. Skiing! Jac and I had semi-planned a trip over to Daisetsuzan National Park in search of the world's best powder, so we rented a car and began our journey up North very early to ensure we made the most out of the 4 days we had. Of course this never went to plan. We actually left on time for once, however got lost going through Sapporo and then spent fucking hours and hours going through traffic lights on Route 12. This was a mistake down to common sense I guess. With my apple maps telling me I was on the right route, who was I to argue… but I could not, for the life of me understand why Japanese people were prepared to do a 140km journey on a road filled with traffic lights every 100 meters. It was now 1pm, my fists were clenched, my face was red and the verbal abuse coming out my mouth at incompetent drivers, didn't even make sense anymore. We still had 90km to go and I was losing the will to live! It was only then we figured the green signs we were passing were signs to the toll road going directly to Asahikawa. FUCCKKKKK. As soon as the next one came up I immediately took the turning and we were finally on highway. 
By the time we actually reached Asahikawa it was 4pm and almost dark. All hope of skiing had gone out the window and so we decided to head towards the hotel. But wait, what was that?! In the distance we could see a slope lit up by flood lights which meant that night skiing was still a possibility. BOOM CHAKALAKA. We drove through the entrance to Santa Present Park, suited up and headed over to start out the night jam. It's a pretty mellow resort, perfect for training, but as we only had powder skis we headed toward a patch of trees where we managed to get some fresh lines. After that though it became a little hard to see unless we stuck to the slopes, so spent the rest of the evening learning to ride switch.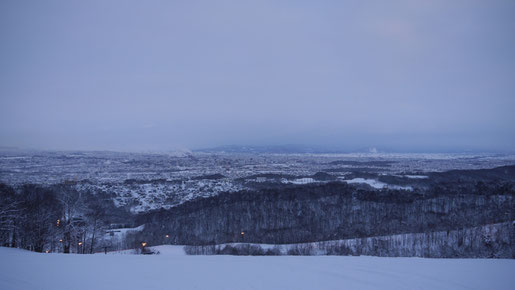 Once back at the hotel we quickly changed and headed out in to Asahikawa city for some food. We found a fish restaurant called Izakaya Tenkin which actually turns out to be one of the best Izakaya restaurants and had some really great traditional Japanese food such as Tempura, Fugu fish (blow fish) and also some hot sake. We got speaking to a Japanese couple who helped us order the best tasting things and then they ended up gifting us with luck charms just before we left for the whiskey bar around the corner.
Day 2 – Asahidake
Again this was another early rise and shine day and this time we were ready to eat some white gold. The weather was pretty windy so we planned on heading to Tokachidake for some touring through the trees. BUT. then it dawned on us how much snow had fallen over the past few days. Something with lift access meant more laps on laps on laps and we would be crazy to miss that. So of course, we changed our mind and decided to re-route to Asahidake….in completely the wrong direction. This ate up a shit load of time, so by the time we got there it was mid-day. Ah well, you can't change the past. We quickly bought some passes and joined the line ready to load the ropeway (large gondola leaving every 20 minutes)
The first line we hit was pretty tracked but the snow was good and we knew there was more to come. As the laps went on though, I really wasn't feeling the zing. Every line we hit was super cut up and it was also a lot flatter then I had expected. Due to the whiteout up top, most people were sticking to the areas directly off the cat tracks. We figured that if any face shots were to be had then we were going to have to venture in to the white out. So that's exactly what we did. Once out the lift we headed far left in to the oblique and down until we reached a few trees. ooooh yeah. No tracks and a perfect pitch of trees and steep terrain lay beneath us. We both let rip and howled like wolves as we enjoyed each fresh turn. WHOOO, Fist Pump. Once down, it didn't take long braking trail until we reached a track out. We had found our playground for the day and spent the rest of our afternoon lapping it, each time a little further over in to the gully ensuring a fresh line and face shots all the way down.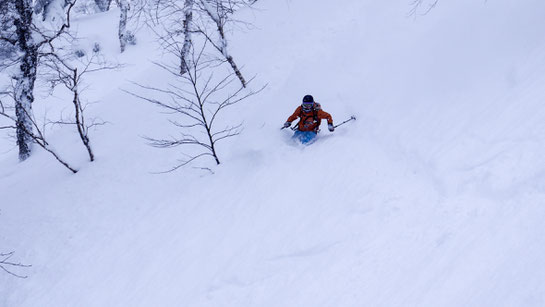 After a good afternoon on the mountain we were now on our way back to our new Accommodation and to meet our Couchsurfing host, Atsushi. Atsushi was a great host from the moment we arrived, he told us he would be preparing us some food for dinner and to settle in and get showered. Dinner that evening was delicious, I'm not sure the exact name but it was a soup consisting of vegetables, tofu and fish and then a plate of sashimi to accompany it. We spent the rest of the evening talking and getting to know each other before heading to bed for another snow packed day.
Day 3 – Asahidake
So we really couldn't decide on where to ski today, but we decided to go to Asahidake again as we now knew the area and the weather was supposed to be a rarity of sunshine, meaning we could also see the volcano and the fumaroles in action. Atsushi made us a protein filled breakfast for kings and then taught us how to make Onigiri so we could make some for lunch. This also turned out to be a much better ski food then sandwiches and pretty simple to make. With the morning of to a great start we loaded up the car and headed to Asahidake.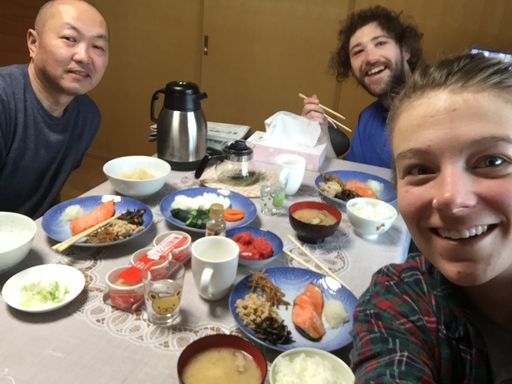 Once there I was a little shocked by the amount of people queuing for the Ropeway (it was a Sunday). The line was long, like ridiculously long! But never the less, the sun was beaming, the volcano was clear as day and you could see the fumarole smoke being blasted out. We went straight back over to where we had been skiing the previous day and it was still pretty fresh although beginning to get tracked. We figured it would make sense to start doing some pow hunting further afield to make up for the long lift lines. This was my favourite part of the day, braking trail to the middle of nowhere in untouched snow, surrounded by mahuuuusive fur trees and the occasional set of bunny prints. It was the perfect winter paradise. Of course it wasn't actually to the middle of nowhere, we ended up just where we wanted and had a playground of steepness, trees and pillows to mess with on our way down. Holly Shit was this place epic!!! Of course one dose wasn't enough so we continued to lap the new area. And then it happened. The run of all runs. A run one only dreams of having. The perfect mix of steepness, trees, nipple deep champagne powder, face shots on every turn and a nice pillow pop to drop to finish it all off. Fuck yeah!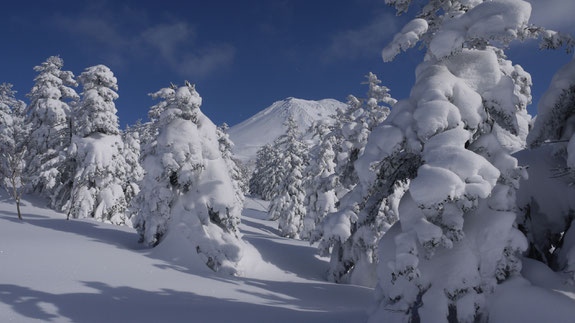 As the day went on we figured it was time to go for a ski tour up the volcano and check out the fumaroles a little closer. It was awesome! As you can only see this on clear days I knew we were pretty lucky. The way down wasn't the best as it was either windblown or sun affected as it was late in the day, but we were pretty much the last people up there and the sun was begining to set over an epic backdrop. We decided to head back down but not before trying to ski off a waterfall. Yeah glad we managed to avoid that one.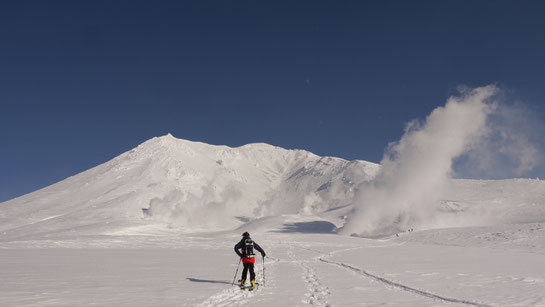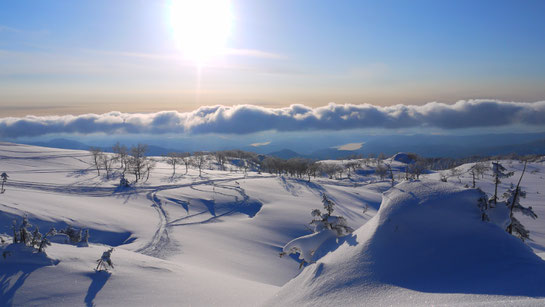 Once back at Atsushi's apartment we began to tell him the tales of our day and showed him a few pictures. He told us that tonight we would make another traditional Japanese dish and brought out some soy bean snaps, a salad and local Hokkaido Hakke fish to snack on whilst he prepared the next part of dinner. We were going to make SUSHI!!! I was so excited! One of the main things I wanted to learn in Japan was how to make sushi and now was the time! Atsushi showed us the technique used to make it and then it was our turn to have a go ourselves. It's actually a lot more difficult than you would imagine, the real test is at the end when you see if it falls apart whilst picking it up with chopsticks. It was so much fun and an experience that I will never forget. The rest of the evening was spent talking over some sake and a few beers before heading off to bed.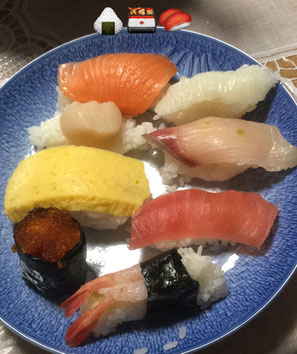 Day 4 – Tokachidake
As this was our last day of the trip and we hadn't done much touring we figured it would be worth going over to Tokachidake to see what it was like. We said thank you and good bye to Atsushi for his wonderful hospitality and headed in the direction of Furano and in to the mountains. As we reached Shirogane Village, it turned out the pass to Mt Tokachidake was closed and we would have to take the long way around. So of course we ended up arriving a lot later then planed but headed straight in to the info centre to grab a map and plan a route. The staff in there were so helpful and gave us a few options that would be good to take. We figured we would take one of the west ridges, so drove a little further down to park then skin up. The way up was really nice, pretty mellow and covered a fair amount of vertical. Of course the way down was just as good and a great spot to do a few laps without having to go all the way to the bottom. Some Americans who we had met at the info centre had also chosen this route and were keen to keep going with us, but after all the skiing we had done I was so ready to get in to an onsen and relax.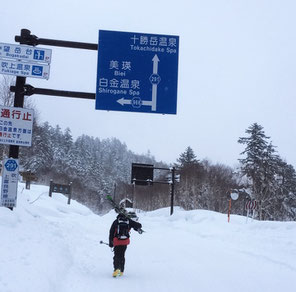 The hidden Fukiage onsen is so far my favourite. Completely out in nature placed in the middle of the forest and surrounded by snow, there is the choice of 2 pools to bathe in, the lower one is 40º and the top one 46º. It's also mixed sex and completely free! It was quite busy when we arrived and after we got talking to the people in there, we found out they were from Belgium making a documentary about Hokkaido. The one girl took a great liking to Jac once he mentioned he spoke welsh, and almost instantly disconnected herself from the conversation we were currently holding and began to pour herself over him. I'm not exactly sure how I felt about this considering he was sat there naked and she was blatantly staring at his naked body whilst outrageously flirting with him, but it gave us something to laugh about once we had left. With the night drawing in and our muscles totally relaxed we jumped out the hot pool and dressed quickly as it was still snowing before heading back to the car to make the 5 hour journey back to Niseko.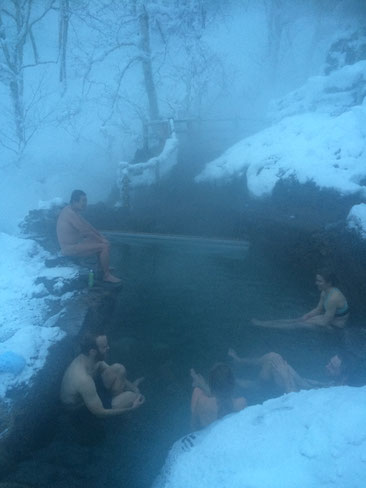 Like what you read? Pin it!