42.8047° N, 143.6875° E
So, I´m no fortune teller, but when I had decided to run a Backcountry tour for ladies around Niseko, I wanted to try and get conditions as perfect as I could get them. A large storm was coming in and I knew the most prime conditions would be a sunny day, still with the fresh snow from the previous dump…errrrr, what are the chances of that? I checked a few of my favourite apps and weather websites and set on the date of 28th February in hope of sunshine and fresh powder. 
The morning of the 28th , and as the 12 girls began to arrive, myself and my 2 tail guides (Sandy & Amy) loaded up the vans with everyone's skis, boards and backpacks. After a quick intro and laydown of my plan we jumped in the vans and headed in the direction of Nitonupuri. With only 2 cars in the parking area it meant everyone had some space to put skins on skis and get themselves sorted. It was a pretty amusing sight actually, imagine 15 girls all getting ready for a day in the mountains.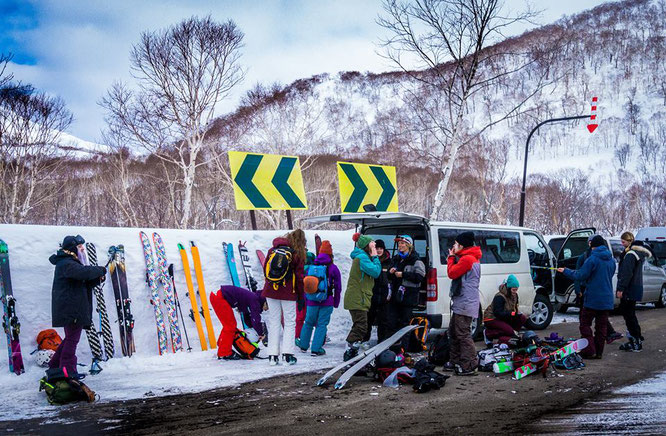 One by one we made our way past Amy who was carrying out the Pieps check, and then as the sun began to shine we stareted the first section of our tour towards the west face. Our first stop was literately only 15 minutes in, but by this point everyone was sweating like pigs and needed to de-layer and embrace the suns rays, so after a quick re shuffle of clothing we began the route through the lower forest over the creek and up towards the foot of the west face.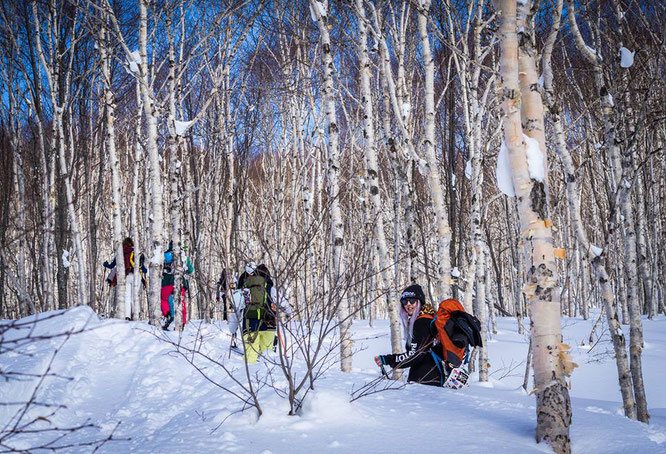 Before beginning the tour to where we would drop in, I took a small detour so everyone could check out the amazing views of the mountain behind us (chiseanapuri) and also the one we were about to climb. Fuck knows how, but one of the girls Emily had soldiered on up still in her coat, so it also meant she could delayer, we could all top up on water (even though we had already started talking about alcohol) and also get a group photo in perfect backcountry conditions.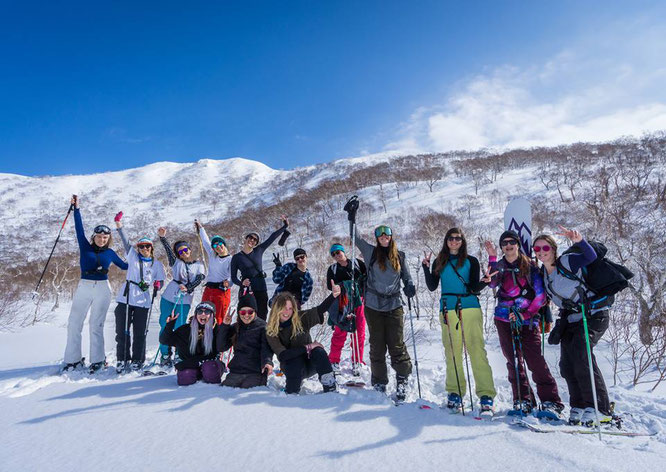 After a quick briefing on kick turns we began the journey onwards and upwards. As I lead the group up, Amy and Sandy helped out with questions or anything the girls had problems with further back, and after 30 minutes, lots of giggles and many selfies we had almost reached our drop in point.  I picked a spot off the track with some open space, meaning if any faffing that need to be done (of course there was going to be faffing, were a group of girls)  then at least it could be done without poking someone else's eye out. With all 15 sets of skins off, equipment put back together, goggles on, one glove found and still with alcohol on the brain it was time to make our first decent. I had eyed up a large enough area for everyone to get their own fresh line, good snow and enjoy the ride down. Once at the bottom smiles were beaming and everyone was buzzing after our first run of the day!
A group decision was made and everyone was happy to tackle another run before stopping for lunch. With the west side pretty tracked we headed up the same face, but once at the top traversed over to the opposite side. Due to how strong the sun was, the snow wasn't as good and pretty heavy in spots but, the terrain over this side was a lot more playful with the occasional pillow and small drop.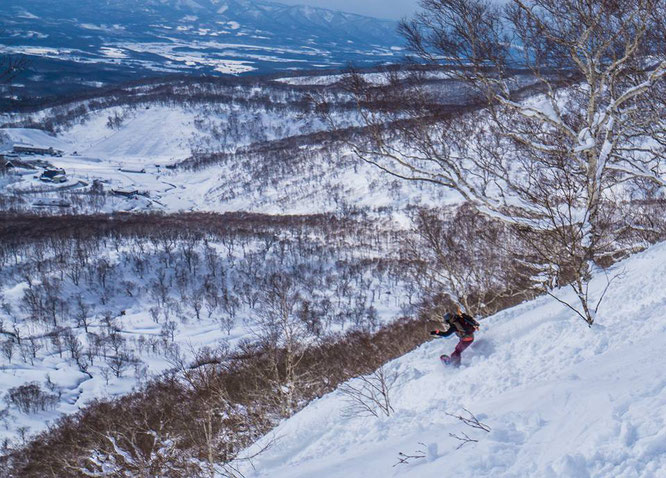 Once at the bottom and still in high spirits we gathered around under a few trees and kicked back in the sunshine as we ate our lunch. As we spoke about how nice it was to have no men around, we shared past and present season stories which of course then diverted to talking about booze, and after a laughter filled laid back lunch the girls decided they had one more tour left in them.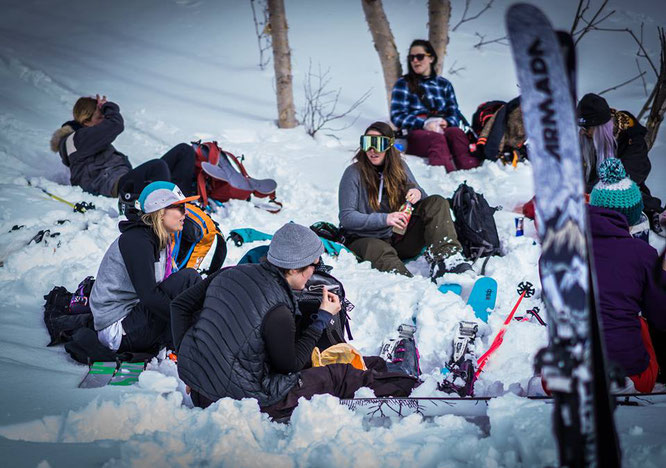 The face from the smaller mountain at the entrance of the trail was still in good condition and not too sun kissed. We followed the track of the people before us as I wanted to preserve as much of the face as possible for the ride down, although for some reason they had cut across the whole mountain face to then go back on themselves? Once at the top everyone was now used to getting skins on and off so things moved along faster. The group was ready to go and as it was a direct route down, the only instruction was to give each person 30 meters' space to enjoy their final run. The run down was sweet as creamy snow and an epic end to the day. Everyone was exhausted but super hyped, so of course the only natural next step was TO THE BAR!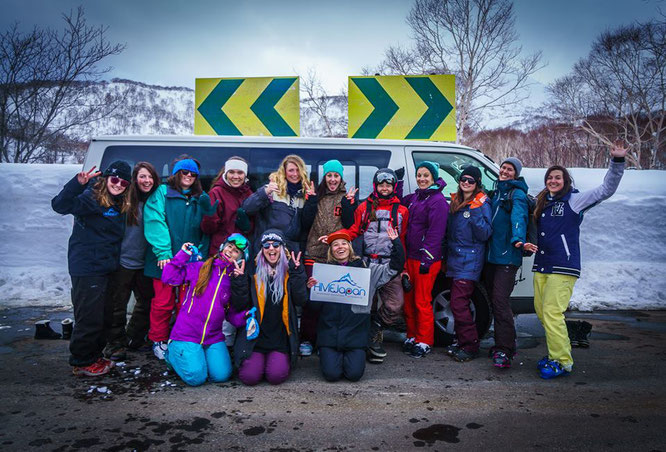 Like what you read? Pin it!