NZ is the heart of tramping (the kiwi word for hiking) and I can totally see why it has earnt that title. After spending 2 months travelling this beautiful country I'm now fully committed to the hiking life style. From rewarding multi day tramps to just as great day hikes, New Zealand has so much to offer. There are so many hikes to choose from and they are literally bursting out of every nook and cranny in the country, so I've put together a post on my favourite and most rewarding tramps.
Greenstone Caples Track
Location: Greenstone conservation area, (86kn from Queenstown)
Duration: 4 days, 61km loop track (can be done in either direction)
Accomodation: There a 3 huts (booking required, $5) or free camping is permitted along the bush edge 50m from the track. The open valley floors and McKeller saddle are private land
How to get there: Drive from Queenstown to Glenorchy, from here it's an hour's drive in the direction of Kinloch on a gravel road to the greenstone shelter. There are a few fiords along the way that can become flooded during heavy rainfall
The track: This beautiful 4 day track was the first tramp I did in NZ! Being pretty much the same as the Routeburn track (it actually links to it), totally uncrowded and completely free to camp it was a no brainer when looking at hiking options around Queenstown. The track follows the open valley, carved out by the last ice age, through tussocks and beech forest around the Ailsa Mountains. Keep an ear and an eye out for Kea's and the rarer Kaka, I somehow managed to see both on my route! The Maori actually used these valleys as access routes between the West Coast and Central Otago to reach Dart valley where they could collect Pounamu (Greenstone), pretty cool to walk the walk of history huh? I did the track at the end of September and saw hardly anyone the whole time (to the point where I could swim naked), it was great! However, there were also a lot of fallen down trees and high rivers I had to wade through due to the path not being maintained during the winter. Be prepared to get wet and muddy in these months. Luckily the weather was mainly sunny so was perfect for drying my shoes and clothes, but then again it is New Zealand so the trip wasn't complete without experiencing all 4 months in one day.
Local knowledge: There are 2 swimming holes along the track perfect to cool down. Both are outlets of fast flowing gorges so expect cold flowing water and of course sandflies! Direction for each hole are from Mid-Caples hut.
Northern swimming hole (12-18 mins) – follow track 1.2km northwest. At this point the river comes towards the track but becomes hidden behind a stand of trees. Follow track up to trees but DO NOT ENTER. Decend the grassy bank on right hand side, and at the bottom turn left through a gap in the trees towards the river.
Southern swimming hole (5-7 mins) – follow track south until you cross the bridge. Follow the edge of a clearing for a short distance, then keeping to the track decend in to some small young trees spaded tightly. Once the forest opens up in to older trees continue 50m and llok for faint track on right hand side which winds down to a bench outside the swimming hole.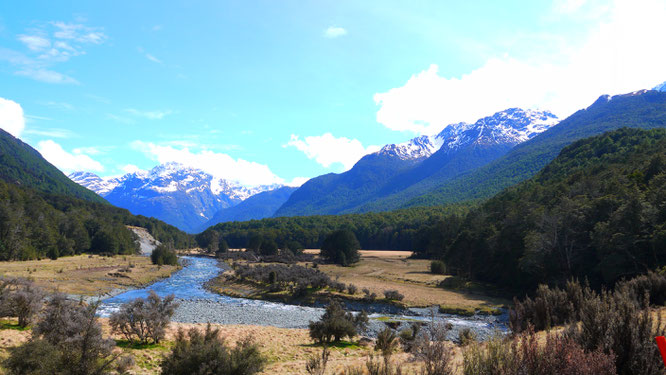 Tongaririo Crossing
Location: Mangatepopo car park, Tongariro National park
Duration: 7 hours, 19.4km one way (will need transport to collect you at the other end, or can return after visiting emerald lakes/blue pools)
Accomodation: The route is only a day tramp however there is a hut and campsite (booking required) normally part of the 3 day Tongariro Norther Circuit, 20 mins from the  Mangatepopo carpark.
How to get there: Once on  Route 4, follow the road until you meet Route 47. Continue on this road until you see the turning for  Mangatepopo carpark. This is the start.
The Track: This is a track you don't want to miss. The trail starts off pretty gentle before beginning to climb 1886 meters to the highest point and look in to the Red Crater. From here there is the option of a diversion to hike the summit or a decent to the Emerald Lakes. Weather can change drastically as its very exposed and fog likes to float in and out (pack something warm and windproof). You can probably smell them before you see them but if weather is good the view of the Emereald lakes is pretty amazing! Especially with the active fumaroles dotted about (I went all snap happy at this point) and 20 minutes ahead of these is the stunning blue lake. I actually turned around here and walked a few hours back to the carpark, but it's much easier to continue downhill to the Ketetahi road end. There are a few other side hikes to do off this route if your feeling super fit but I had waited 2 days for the rain to stop so wasn't too bothered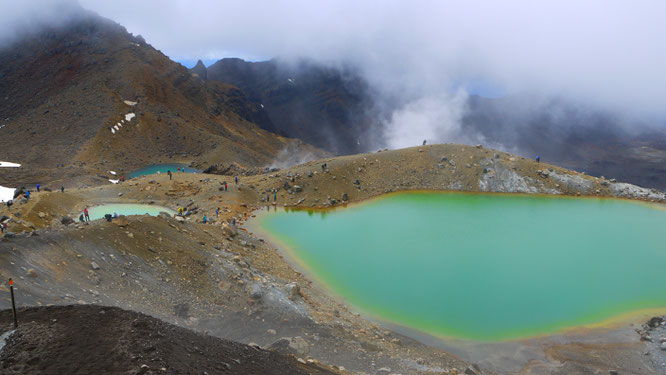 Key summit
Location: Devide Car Park, Fiorland National Park
Duration: 3 Hours return
Accomodation: Cascade Creek Campsite is situated 10 minutes before the Divide carpark or Howden hut (booking required) is located 1 hour in to the track (15 minute signposted detour)
How to get there: From Te Anau continue 83km along the Milford Highway until you reach the Devide Carpark.
The Track: This was the most rewarding track for the amount of effort needed for sure! Starting on the Routeburn
track this hike is perfect for either combining with the 3 day tramp or doing as a quick day hike on the way to Milford Sound. The short but steep walk up brings you out to see an incredible view over Fiordland national park. The summit is covered with tussocks and tarns which makes for great reflections and views of the surrounding mountains on sunny days.
Copeland Track  
Location: Welcome falt hut, Copeland Valley
Duration: 2 days, 32km return track
Accomodation: Architecht creek hut (3 hrs in & only 2 beds) Welcome Falt hut & camping (booking required)
How to get there: From Fox Glacier drive 26km south on Highway 6. Follow signs to carpark 150m down gravel road. Atomic shuttle buses pass the road end each morning and afternoon and will drop off and pick up pre-booked passangers
The Track: Oh god, take me back to the wonderful welcome falt hut! The tramp up the Copeland valley is a mixture of running waterfalls, climbing over boulders, crossing high swing bridges and the views of snow covered mountain peaks. Of course, that's without even mentioning the main attraction. Ever wanted to bath in a natural hot pools surrounded by jaw dropping mountain scenery or under a full moon in a sky full of stars?  Well here's the chance to! Words literally can't describe what the welcome flat hot pools are like so a photo can probably do it better. If you are unable to cross Rough Creek (the start) due to high water, then this means the rest of the track will be flooded and not only dangerous but impassable. I made the journey with some friends and we took a bottle of red wine up each, which of course made the whole thing even better (you can read about it here). Oh, just a quick one, make sure to keep your head above the water to avoid the deathly risk of Amoebic Meningitis.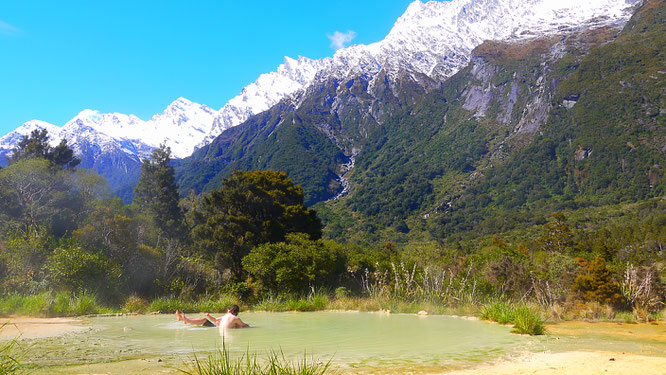 Like what you read? Pin it!