42.9037° N, 140.4694° E
What is the Niseko Haute Route?
The Niseko Haute route is a trail that traverses across the Annupuri Mountain range starting from Niseko Resort peak down to the Sea at Iwanai on Japans' West Coast. The typical route crosses 7 peaks on the way to the sea and can be done in to 2-3 days either walking during the summer months or ski toured over the winter.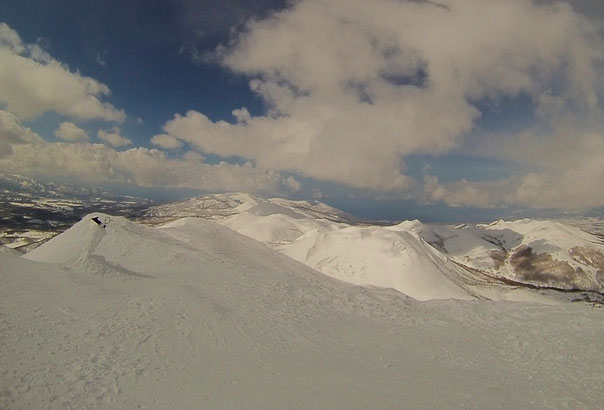 Our plan
Day 1 – Niseko to Shakunagedake, camp in the valley between Shakunagedake and Shirakaba
Day 2 – leave bags in Nimmi Valley and spend day skiing North and north face of Mae & Mekunnaidadake. Camp in Valley of Nimmi Onsen
Day 3 – Nimmi Onsen valley – Iwanai, return to Niseko by lift from friend.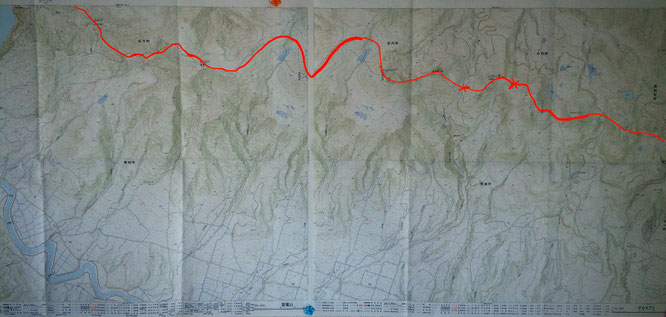 ---
---
The trip
After hearing about a 3 day tour to the sea at the beginning of season, I knew this was something I wanted to tick off my bucket list. Part of the wolf pack (Myself, Jac and Iain) had made it to Japan and this was the perfect adventure for us to tackle. As the Winter began to get warmer and the powder stopped flurrying in, it was coming up to the point where we would be able to make the journey. Jac and I picked up some maps of the route and told Iain to start getting his shit together for when the weather would give us an opening (just about made that one mate). Although Niseko had been having a ridiculously hot march, a storm was forecast for the next week. Perfect! If we could get a few clear days after the storm, it could be a combo of low wind, good visibility and some fresh snow! It turns out that's exactly what was forecast. We set the date, planned our route and picked up everything we needed to make it across.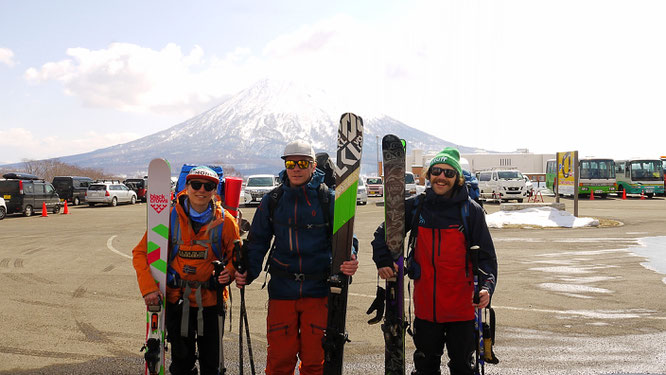 Day 1
Being in Hirafu by 8am meant we could be up the mountain and waiting for the pizza box lift to open at 9.30. So we set of on time, with our well thought out schedule and… Of course things obviously didn't go like that when it came to us! We ummed and ahhhed at pointless shit, is this REALLY necessary to pack?, Faffed around re-packing, and then re-re-packing and also decided to fit in a spot of breakfast and a quick trip to the boot fitters. Along came 10am and we were only just about walking in to the bottom gondola. Next came the chairlift, an amusing attempt with a 60L backpack, and finally the Pizza box lift before the boot pack up to Niseko peak.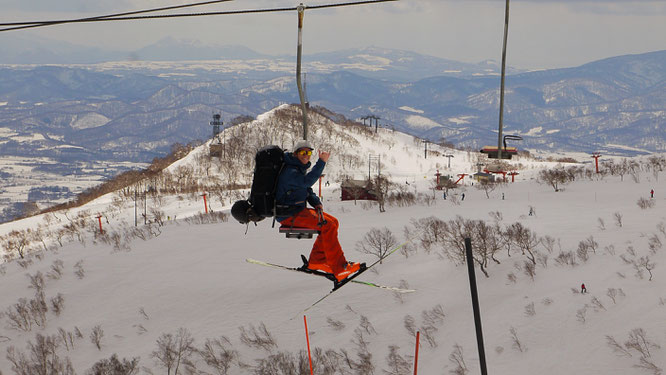 After a fucking exhausting 20 minute hike to the peak (probably the hardest part of the whole journey), next came the hilarious decent down the other side. Now I think I speak for all of mankind here, because trying to ski with 20 kilos of top heavy extra weight on your back is the most ridiculous thing ever! We spent the first 300m looking as strong and graceful as a new born deer; completely Bambi legged. If it wasn't for a good old side slip and a power plough I'd have probably rolled down to the whole thing. Fuck me it was bloody awful!
Finally, on the flip side, Skins on and banter in full force it was time to actually get some pace going to this mission… until Jac decided it was time to hang from a tree and take a shit. Well, when in nature I guess whatever goes. After around an hour and a half of touring and Jac feeling 2 kg lighter, we were all feeling pretty hungry. Now I know what your thinking - an hour and a half, really? After you already had a late start? I know, I know, but we're on holiday. Leisurely skiers we are! Lunch was great, we sat in the sun, made some noodles and chatted shit. Fuck its 3 o'clock and we haven't even passed the Second mountain!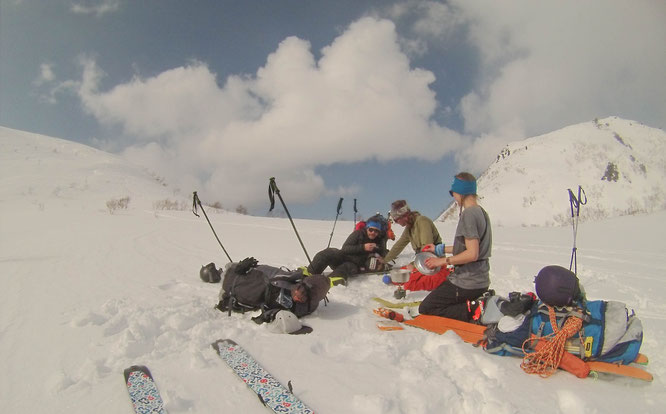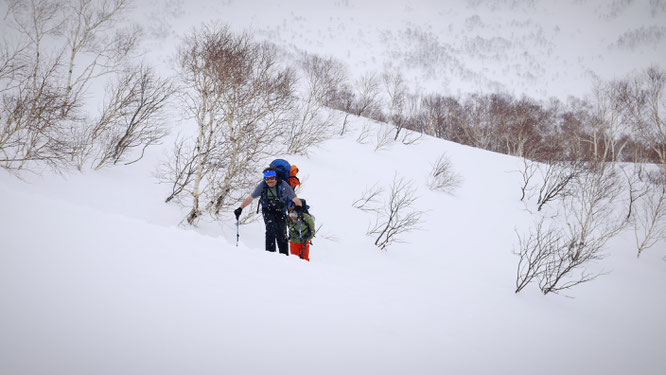 This is when shit became a little more real. We powered up Nito full pelt. The boys had managed to ski down the other side, whilst I was still in the process of finding my legs. Chisenapuri was next, and after a good run down the opposite side it was time to set up camp. Once we had dug a pit, set the tents up and got dinner on the go it was probably the time to sit around the fire and finish up on the rum, but as our fire wouldn't catch and the temperature was dropping we figured it best to call it a night.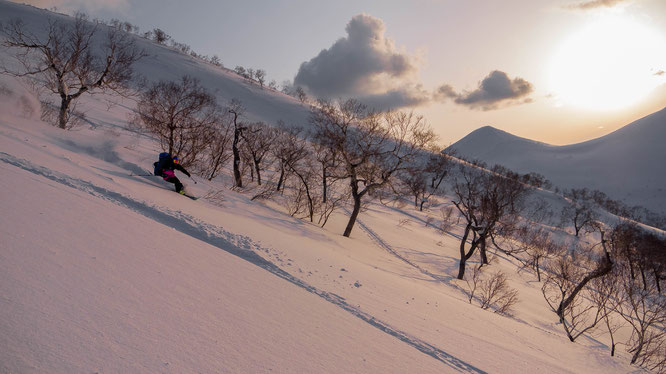 Day 2
Holy Shit was it cold last night. I know I shouldn't laugh (cracks me up every time) but poor Iain didn't sleep a wink because it was that cold, he thought if he did fall asleep, then he would never wake up again. In fact, he was ready to call the trip off and head back to Niseko. After a giggle about our warm tent, then came getting our boots on, oooh these fuckers were bad enough after being left off the boot heaters for a night, never mind being frozen solid. It took the effort from all 3 of us to help each other on with boots and then we finally got coffee and breakfast on the go.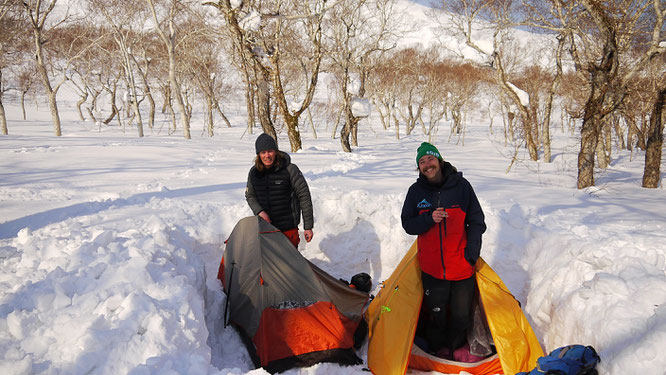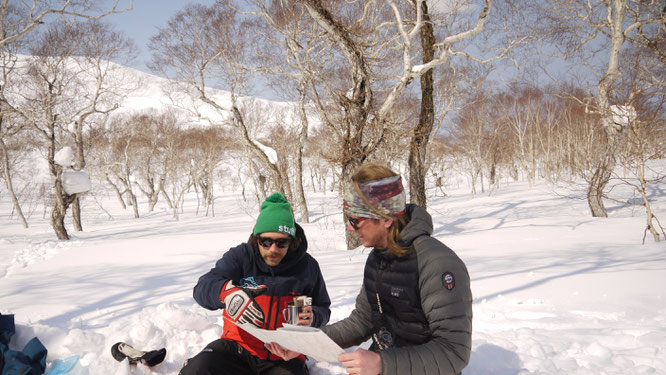 Again, it was a stupidly late start and it's now fact we aren't cut out for this early morning shit. The next mountain wasn't so bad though, we reached the iced over tarn by mid-day and after another accent out of the bowl it was a smooth ride down and over the saddle. We were looking for an ice cave that some others had previously built as they had fire lighters in them but we couldn't find it. What we did find was a great sheltered area. Perfect for lunch! Ok, maybe we should have kept going but the weather changed rapidly, the wind and snow came out of nowhere and it was a good place to have a jib around and eat noodles.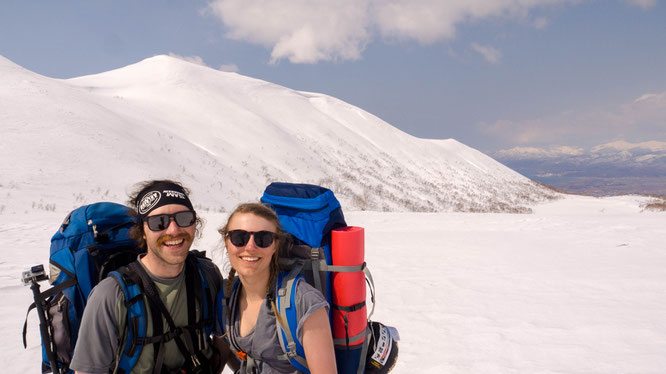 Once the wind had died down (and it was now mid-afternoon, woops) we geared up and hit the next peak. Although we wanted to carry on further, after assessing our options we figured it would be best to set up camp in the valley below us as the following valley was pretty exposed and it was beginning to snow again. We couldn't let Iain do another night of potential hypothermia. As we picked a place to dig a camping pit, the snow was still hitting down pretty hard. I figured it was best to give Sarah a call, and see what the weather was saying as snow wasn't on the forecast. After coming off the phone with her it seemed that the weather had decided to do a full switch around; The wind was due to pick up and snow was now forecast for that night and the following day. I was still so keen on making it to the sea but I knew that with bad conditions it could be a dangerous move. After the boys were happy to call it, I knew it was the best decision to go with. We skied down to Nimmi Onsen where our boss Pete picked us up and headed back to Niseko. Not gunna lie, pretty gutted but better to be safe then sorry!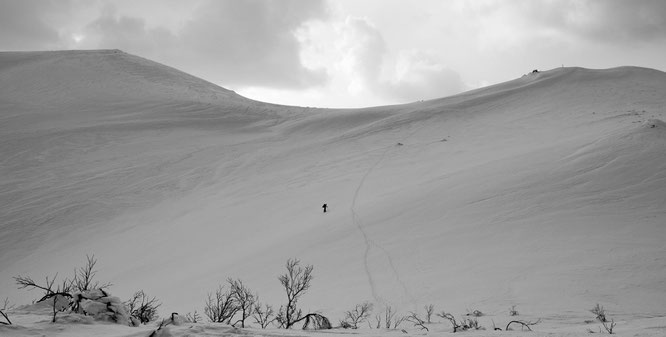 Day 3
After spending an unexpected night in a warm bed we awoke to see a full on blizzard hitting down. Thank god we chose to come back as I'm pretty sure Iain would have probably frozen to death over night and the final stretch of our journey would have been a no go. However, the day was not wasted and after of course, a lazy morning we headed over to Annupuri for a relaxing Onsen.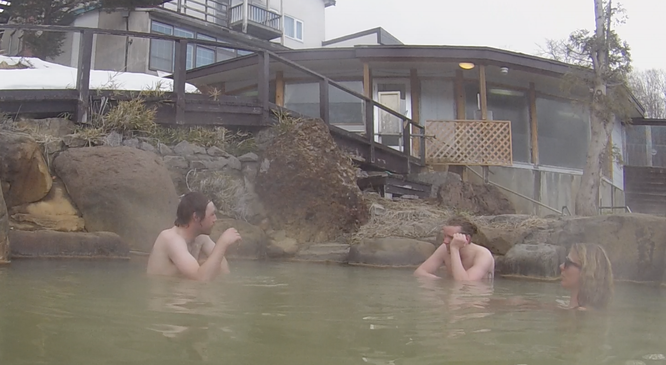 Like what you read? Pin it!