41.7688° N, 140.7288° E
With the season slowly but surely coming to a close, I was buzzing to get my bags packed and hit the road in mine and Jac's new home (Again, Holla to our boss Dan for lending us the Voxy) After planning to leave Niseko at 8am, which actually meant 10, we were pretty happy when things finally got going by mid-day.
First on our list to do was head in to Sapporo to grab Jac his new 'sleeping bag for life'. The second hand store 2nd Street is a god send for anyone wanting cheap but good quality outdoor gear, and after spending 3 fucking hours in there, I mean it when I say they got you covered. Finally with the perfect sleeping bag for life we were back in the car and off to the first destination…. Actually, that's a lie, we had no plan, so checked out google maps and picked the closest lake to Sapporo to spend the night.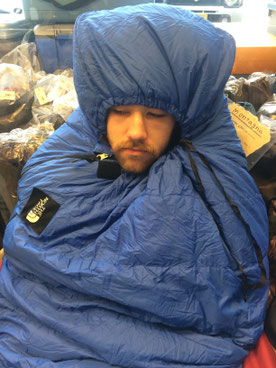 Holy shit was it cold and windy last night. We had arrived at Lake Shikotsu in the dark and because Hokkaido was currently being hit with a typhoon we daren't leave the car. Waking up at 5.30am from a grumpy voice telling me "stop taking up all the room you fat bitch" wasn't exactly the morning wake up I was expecting, but Jac is notorious for his outrageously foul morning manner and I admit, I do have a tendency to starfish. With the sun finally up it was great to see the lake accompanied with some sunshine and with 10 days of exploring Hokkaido ahead of us it was time to make a plan for our next stop.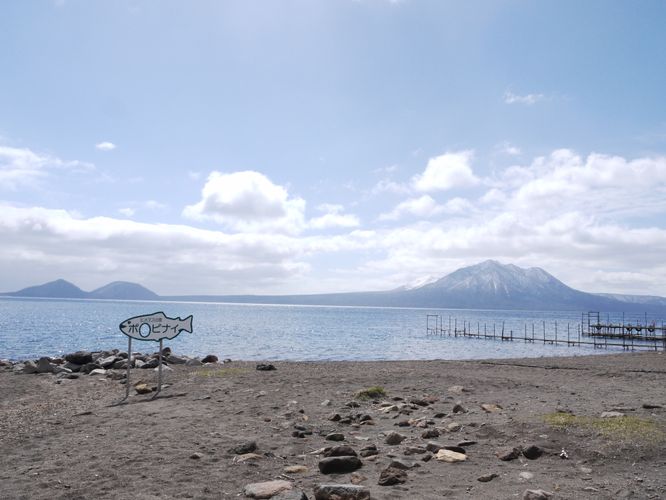 After calling a few tourist info centres it seemed that our plan was kinda going to shit. Although Hokkaido was no longer in Winter, it turns out their spring time isn't great for road tripping as a lot of the roads are still closed and the majority of the hiking routes we had planned on doing were still covered in thick snow. Hmmmmm. Do we go back and get skis? Do we do the small trails that are open and forget about the main ones? Fuck knows! This situation that we probably, could have, defiantly, should have researched was a massive spanner in the works.
Ok, new plan! If were coming back to Hokkaido then surely it makes more sense to head down to Japans main island; Honshu now. Then by the time we come back up this end in June, everything we want to do will be open. We figured Hakodate would be the best place to grab a ferry to Honshu so began the 5 hour car ride down to the south of Hokkaido.
The ride down was pretty chilled and started off with gorgeous views of the coast. However, as the hours went on, I was shocked by the amount of waste I saw along the beaches. An endless disaster of mans intruding plastic footprint was the only thing separating the small fishing villages and the  larger seafood towns. This carried on the whole way down and as I thought to myself, surley the painstakingly obvious disregard and destruction for their local environment was a kick in the balls! Surley they want to change! But that's when I realised, these people are blind to what they have created. Why? For them, this was a gradual build up from one generation to the next, and after seeing something for so long, we are conditioned to act like it's the norm. THIS IS NOT NORMAL. So I made a plan, a call to action, but that's a whole different story to watch out for! With a new lease of energy and my brain ticking over with ideas we trundled on in to Hakodate city centre.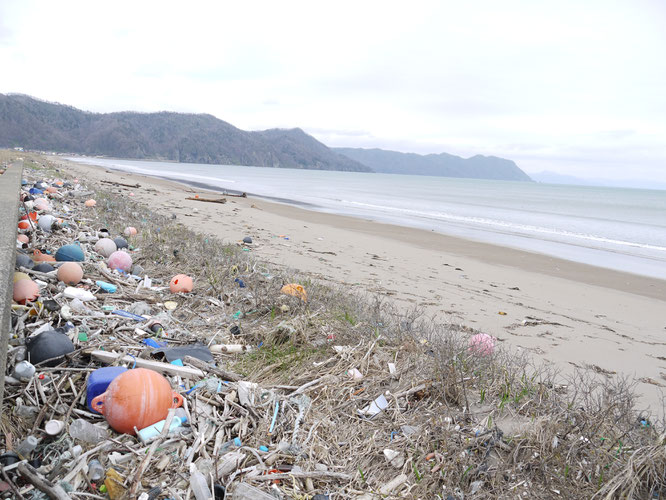 As it was dark by the time we got to Hakodate there was only really one attraction we could see; Hakodate night view. Regarded as one of the best cities to see at night time we decided to drive up to Mt Hakodate (you can also take the Ropeway for ¥1280 return, ¥780 one way Or walk for an hour). The view was pretty stunning and after taking a few snaps we began heading back down to find somewhere to make dinner.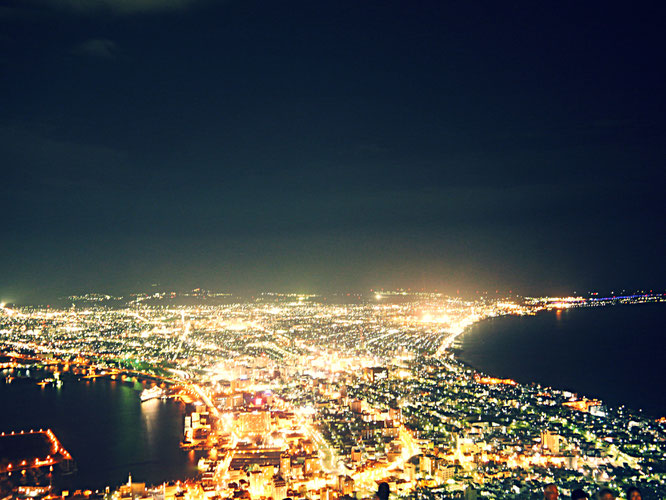 There was an empty car park around 200m from the top of Mt Hakodate which seemed like the perfect place to cook food and also set up for the night. As we chopped some veg we joked about how the doughnut tyre marks on the floor were probably that of the local gang who turn it in to Tokyo drift up here on an evening. Yeah, funny we joked about that because come 10pm a shit load of cars started charging their way up and down the mountain and constantly pulling up in to the car park. There we were frying up some good ol' chips to munch on and pissing these boy racers right off in to high heaven. At around 11pm we began to hear violent exhaust blurts and tyre screeches thundering from the top car park.
'Erm, I think they probably want us to leave now' was all I could really say.
2 gaijins show up cooking food out the back of a car and ruin their evening antics. Yes they obviously wanted us to fucking leave. But we hadn't finished cooking and we were both starving….so we stood our ground.
Bad move! next thing you know DK (Drift King from Tokyo Drift) comes roaring round the corner followed by his right hand man and starts ragging his car all over the place, Holy shit! Doughnuts and figure 8's like you've never seen them. It was long enough for me to stop what I was doing, go in to the car, find my camera and start filming him. He screeched to a halt in the middle of the car park, staring directly us face on and revved his engine until smoke surrounded the entire car. This was full on Tokyo Drift!!!! I almost thought he was going to start levetating on his cloud of smoke as he moved towards us but no, once the show was over him and matey boy slowly rolled out, engines still loudly grumbling. Okay…. Were defiantly on their turf, we should probably get the fuck out of here! We packed up the car and started driving down the mountain. As we were almost at the bottom, up comes a policeman followed by one of DK's fellow racers. What? That's strange, shit, maybe he's a corrupt policeman. Surely not in Japan. We decided to do a bit of detective work once we got to the bottom, so reversed in to an alley and turned off the engine and lights. Undercover and 20 minutes later down came the copper still followed by the same boy racer but no sign of DK and the rest of his gang. Were we witnessing police corruption in Japan? Im not sure, but I sure as hell won't be trying that stint again.
Like what you read? Pin it